With the booming of the tourism industry along the so-called Riviera Maya — the 100-mile stretch of Carribean coast in southern Mexico centered around the resort city of Cancún — it's easier than ever before to reach this warm and wondrous part of the world. There are direct flights to Cancún even from non-hub cities, including, yes, Cleveland. (In fact, two airlines fly the route: United and Frontier.)
But what if, like me, you're not so much a beach baby? What if you tend to prefer things old and mysterious?
Well, you fly to Cancún anyway. But instead of heading south along the beach, you veer immediately west, toward some of the world's most complex and beautiful ancient cities.
I had a great time doing just this in March 2015, when I decided to take a last-minute, late-winter trip. I flew to Cancún, hopped in a rental car, and made a busy but unhurried 8-day circuit of the Yucatan Peninsula. The inexpensiveness of it all (average hotel night was $50 — and these were nice places!) made the trip even more wonderful.
I guess you could call it a visit to the Terre Maya, as opposed to the Riviera Maya. (Haha get it?) Although I did make sure to fit in a day at the beach at the end of the trip, just for good measure.
El Mundo Maya
The ancient cities I saw were built by the Maya — the culture that continues to dominate the Yucatan Peninsula today.
The Maya still don't seem to get the awe and respect they deserve from most of the outside world. That's partly due to the destruction wrought by the Spanish conquistadors during the 15th and 16th centuries. Untold numbers of Maya were killed — either purposefully, through warfare, or accidentally, through European disease. Cities were smashed, records destroyed, books burned. (Only four ancient Maya books exist today, all in European libraries, out of the thousands thought to have been written.)
In a cruel irony, our best source of information about ancient Maya culture comes from one of the most bloodthirsty of the conquistadors: Diego de Landa. He wrought havoc and torments on the Maya during his extensive travels in the Yucatan in the late 16th century, then wrote an extensive account of their "demonic" culture while in prison for gross mistreatment of the native people years later.
All of this means we know tantalizingly little about how these ancient cities worked. When you visit an ancient Maya city today, the best you'll get is conjecture about individual buildings functioned. Maybe this pyramid was a monument to an important king. Maybe this low structure with the arched doorways was home to a group of royal families.
Add in a dash of the still-present Eurocentrism that led to all the destruction in the first place (Native Americans couldn't possibly have been as advanced as the Greeks or Romans), and it's easy to see why most of these ancient wonders receive a fraction of the visitors as, say, the Parthenon in Athens or the Pantheon in Rome, even though some of them are around the same age and are built at an equal or grander scale.
If you make the effort to get even slightly off the main tourist path — meaning anywhere outside Chichen Itza and Tulum, which are widely served by tour buses — you'll be rewarded with a great deal of space and peace for reflection on this impressive culture.
My Trip
When researching the Yucatan, I felt especially compelled to visit the ancient city of Calakmul, near the Mexico-Guatemala border. I'd heard of it before and knew it was one of the largest and most important Maya cities, the main rival to Guatemala's spectacular Tikal, which I'd visited almost exactly a decade before.
I admit I was also intrigued by how hard it is to reach: In the middle of a jungle bioreserve and about 100 kilometers from the nearest town. I've always liked the remote!
This gave me two pivots around which to plan an itinerary: my landing city of Cancún, in the far northeast of the peninsula, and my ultimate destination of Calakmul, in the far south.
I'd also heard the Spanish colonial cities of Mérida and Campeche, both near the Gulf of Mexico coast, were lovely and lively. A Mexican woman on my plane back from Easter Island in 2013 had told me Mérida was her favorite city in all of Mexico. Campeche, meanwhile, is a UNESCO World Heritage site. Can't really beat those kinds of endorsements.
Connecting the dots, I ended up planning a big loop around the Yucatan, mixing up ancient sightseeing with visits to Mérida and Campeche. Since I only had 8 days, I decided to drive rather than rely on public transport. (See below for the logistics of renting a car in Mexico.)
Here's a pretty good map showing the basic loop I'd planned.
Spoiler alert: Once I arrived, I found myself wanting to stay immersed in the Mexican countryside and the world of the ancient Maya. I did visit Mérida, but only for one night instead of my planned two. I skipped Campeche altogether and instead headed to Xpujil via Hopelchén.
I think this was for a few reasons. One, it was just the mood I was in, wanting to relax and contemplate rather than stimulate. Two, I was driving by myself, and navigating the streets of large and unfamiliar cities sounded like a recipe for stress at best and accident at worst.
Three, visiting a city such as Mérida — built by the Spanish conquistadors atop the pulverized ruins of a Maya city — ended up highlighting for me a deep sense of cultural loss. It's certainly an appealing city, but I couldn't help but think of what it cost.
So apart from one night in Mérida, I stuck to the small towns and countryside. Below, I offer my somewhat strange itinerary. Maybe it'll help inspire your own unorthodox trip to the Yucatan!
A note on prices: Sometimes I quote them in U.S. dollars, sometimes in Mexican pesos. a Mexican peso currently holds about 6 percent the value of a U.S. dollar. To do a quick conversion in your head, halve the pesos, divide by 10, and add a bit.
Day One
Cancún to Izamal (about 4 hours)
The artisan-heavy town of Izamal ended up being one of my favorite stops on this trip. It's a sun-hammered, four-hour drive due west of Cancún, but you can easily break the drive in half by stopping in the appealing city of Valladolid — either for lunch, or to visit one of the Yucatan's most famous cenotes.
Cenotes are caves filled with deep blue groundwater, and they proliferate throughout the Yucatan. They're also how the ancient Maya got almost all their water, since the region has no natural rivers and few lakes.
The one I stopped to see was X'keken (pronouned Shkeken), also known as Cenote Dzitnup, a few kilometers outside downtown Valladolid. It's a deep, jewel-like well with vines and stalactites hanging from its ceiling, popular with both Mexicans and tourists. You can swim here if you like.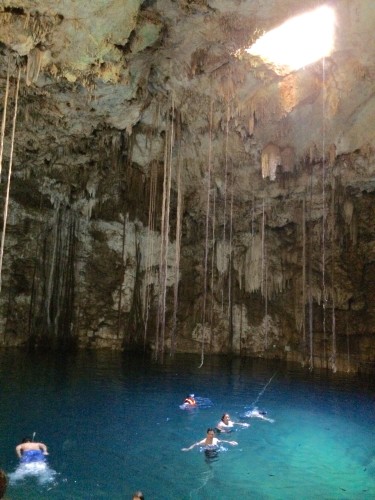 I decided to skip Chichen Itza, just outside Valladolid, because it's the most heavily visited of the Maya sites and I wanted to save time for more off-the-beaten-path places later in my trip.
The colonial buildings of central Izamal are painted golden yellow, making it an especially magical place to wander at sunset.
What I loved most about Izamal, though, was how it balanced its past with its present. Walking through the compact downtown, you encounter pyramids and administrative buildings of the ancient Maya city that preexisted this one — all standing in easy harmony with contemporary hardware stores and fruit stands.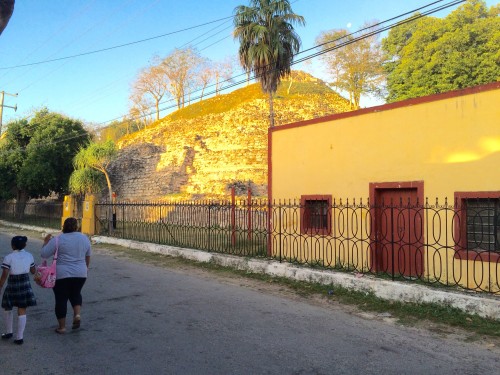 The largest extant pyramid is Kinich Kak Mo, and you can climb to the top for beautiful views of the town and surrounding countryside.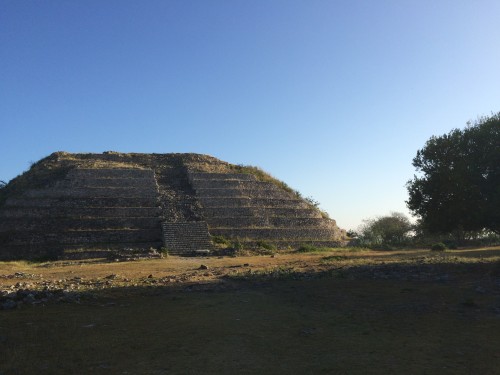 To give you an idea of the friendliness of the place: I left my wallet in a fruit stand one morning. I hadn't walked five minutes before three separate people stopped me on the sidewalk to tell me I'd left it. One elderly couple even gave me a ride back to the store.
Note: When leaving Cancún for Izamal, take the free highway (known locally as la libre, or 308) rather than the toll road (la cuota). They're pretty well marked by signs — basically, avoid the ones for la cuota. It's faster than la libre, but also expensive and boring since it passes through no towns along the way.
Hotel: Rinconada del Convento, about $50. Nice-enough courtyard hotel with a small pool and air conditioning.
Day Two
Izamal to Mérida (1 hour)
I'd met a fellow solo traveler in Izamal who was also heading to Mérida, so I gave him a lift the next morning. We decided to stop in Aké, a ruined Maya city about halfway along the route (and just slightly out of the way).
Aké was the site, in 1527, of a particularly bloody battle between the Spanish conquistadors and the Maya. Some 1,200 Maya died in the battle. It's a beautiful place, but knowing this violent history cast a pall over our visit.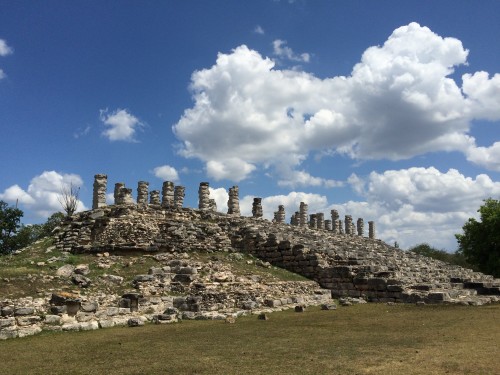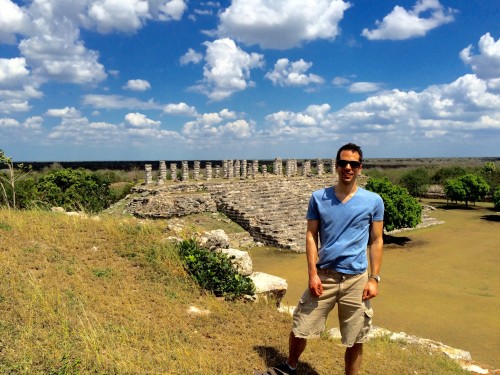 Significantly, today it's encompassed entirely by a 19th century henequen plantation historically complete with partially abandoned hacienda. (Henequen is a fibrous plant used to make rope and hammocks.)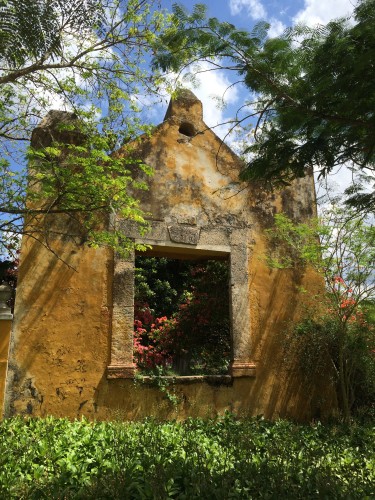 Driving into Mérida was a bit harrowing. It's a big city — some 1.6 million inhabitants — which meant lots of traffic and congestion. At one intersection, we passed a bad motorcycle accident, the driver lying motionless on the ground. We didn't stop, as others had already done so and were clearly calling for an ambulance. An ominous entry into the city.
My travel friend helped me navigate the web of one-way streets to my hotel, then headed off to his own hostel.
Already, I was feeling that Mérida was too big and busy for my mood. I decided to make the most of my time there, though, and headed to a simple seafood restaurant, El Marlin Azul, for an early dinner. I ate some delicious shrimp fajitas served with freshly made salsas.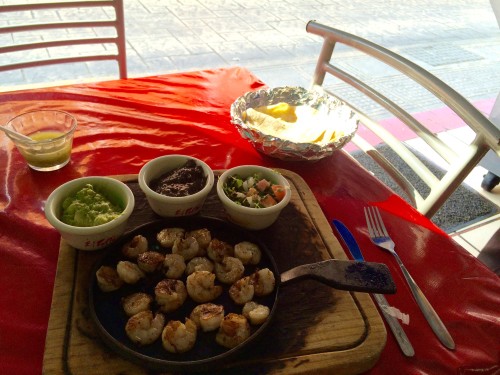 I walked around the city for the rest of the evening, feeling jarred by the aforementioned thoughts of colonialism and conquest. I decided to make it an early night and try again the next morning.
Note: The time changes to one hour earlier between the Mexican states of Quintana Roo (home of Cancún and the Riviera Maya) and Yucatan (home of Mérida). I wasn't aware of this until 24 hours later, which made for some confusing encounters!
Hotel: Luz en Yucatan, 499 Calle 55, about $50. Peaceful courtyard hotel with friendly staff, small pool and large (if sometimes windowless) rooms. Air conditioning. 
Day Three
Mérida to Uxmal (1.5 hours) to Oxcutzcab (45 minutes)
When I awoke and resumed my wandering, I still couldn't connect to Mérida, though I could see its appeal. It was full of busy, interesting-looking people — university students, businessmen, old ladies, gringos. (I saw more gringos here, in fact, than anywhere else on my trip save the Riviera Maya itself.) Much of the architecture was lovely.
My hotel had a generous no-penalty cancellation policy, so I bailed on my second night in Mérida and decided to hit the road again — this time bound for the ancient Maya city of Uxmal.
I felt good leaving the city behind for the endless humid greenery of the Yucatan countryside.
But I had no idea of the wonders in store for me at Uxmal (M$199). It ended up being one of the most magical and transporting archaeological sites I've ever visited, right up there with Delphi and Delos in Greece and the Roman forum.
The first thing you see walking in is the Pyramid of the Magician, an especially graceful pyramid temple thought to commemorate one of the city's most important rulers. According to legend, it was built by a dwarf whose witch mother helped him challenge the king.
Then you walk into what the Spaniards called the nunnery — a complex of gorgeously decorated buildings surrounding a central plaza that was more likely a military training complex or a residential area for nobles.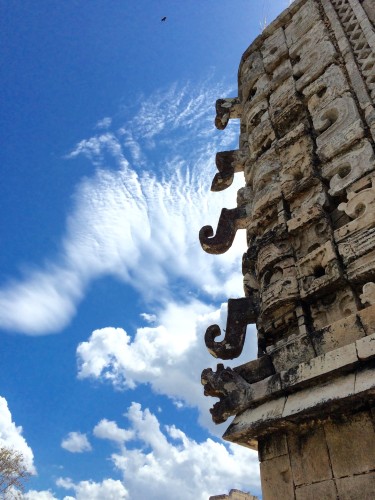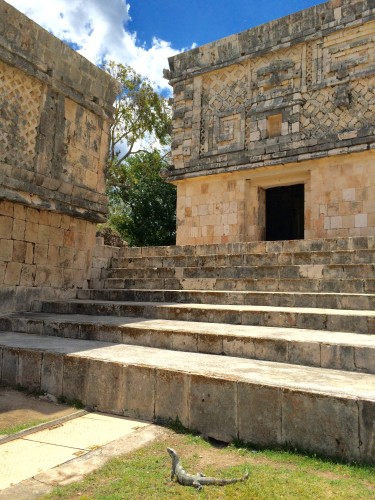 The best was still to come. The House of the Governors, atop an acropolis-like hill a few hundred yards away, is often named one of the finest extant examples of Maya architecture. Even today, a thousand years after it was built, it held me utterly in its thrall. The abstract stone carvings on its frieze achieve a kind of jumbled symmetry, calming and a little upsetting all at once. This contrasts with a plain and serene lower level of smooth walls and angled doorways.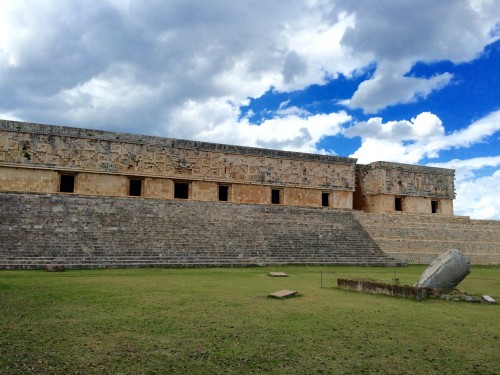 Really, it may be the most beautiful single building I've ever seen. I was content to lie under a nearby tree, just gazing at it for half an hour or more. Attempts to capture its beauty by camera were futile, but I couldn't help but try.
Unlike a lot of Yucatan archaeological sites, this one is heavily wooded and nestled among low hills, so you're never far from shade. The site was busy but not crowded. I never felt like I was competing with anyone for space.
You can still climb the tallest of the pyramids, Grand Pyramid, only partially excavated. Here's the view from the top.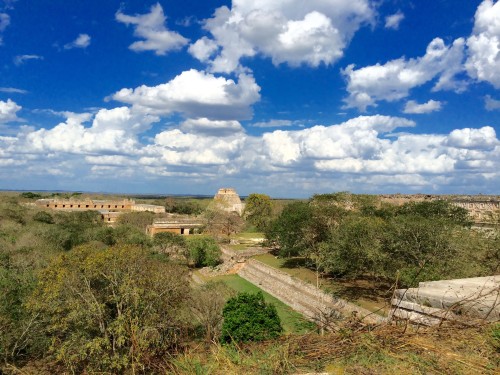 I spent about 4.5 hours here all told, which left time for reflection and a simple lunch of food I'd brought in.
Shortly before the site closed at 5 p.m., I hit the road for Oxkutzcab, about 45 minutes away, because it would put me in good position to explore some smaller sites in the style of Uxmal the next day.
Oxkutzcab turned out to be a friendly small city with a crazy-busy central plaza. Apparently there's a huge market here during the day, but even after dark it was hopping with old ladies selling cabbages and mangoes (delicious — I bought two!).
Hotel: Hotel Puuc, 80 Calle 55, about $20. Super-basic but comfortable place with air-conditioning. The on-site restaurant serves a nice breakfast, not included. 
Day Four
The Ruta Puuc to Hopelchén (about 2.5 hours plus stops)
Uxmal was the capital city of the Puuc region of the Maya, in what's now west-central Yucatan state. Since I loved Uxmal so much, I decided to spend this day exploring some smaller cities built in its style.
While most of the Yucatan peninsula is pancake-flat, the Puuc features a series of low hills that gives the landscape a graceful, enveloping quality. It's also the driest part of the peninsula, with no cenotes, so the ancient Maya who lived here had to rely entirely on rainwater cisterns for irrigation and drinking-water supplies. They were willing to do so because the soil here was more fertile for agriculture than in the more low-lying parts of the peninsula.
Unfortunately, the system proved unsustainable long-term: Mayanists believe the reason most Puuc cities had been abandoned by around 1,000 A.D. is because their population exceeded what could be supported through rainwater harvesting alone, perhaps combined with a prolonged drought.
Puuc architecture features lots of frieze ornamentation, much of it abstracted images of the Maya rain god, Chac. Given the importance of rain in this region, it's not surprising to find him so prominent. He's most often depicted with a big, hooked snout jutting out from the faces and corners of buildings. Another Puuc characteristic is plain, smooth lower stories, constructed of polished limestone veneers over mounded rubble walls.
The site of Labná (M$47), with its famous entry gate, affords the best sense of what it must have been like to approach the noble precinct of an ancient Maya city. The elaborate stone arch is imposing enough, but it's paired with a lacy-topped temple. In front of these is a long, low structure that seems to be a gatehouse. It's easy to imagine the whole area heavily guarded, and the awe that would have struck if you were lucky enough to be permitted entry. The ensemble of buildings here reminded me of something you'd find at a great piazza or square in Greece or Rome, everything designed to let you know you've entered a Special Place.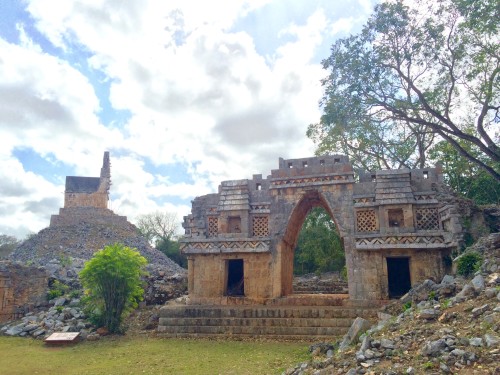 The Great Palace structure here was no slouch, either. Especially noteworthy is the serpent with a human head in its formidable jaws.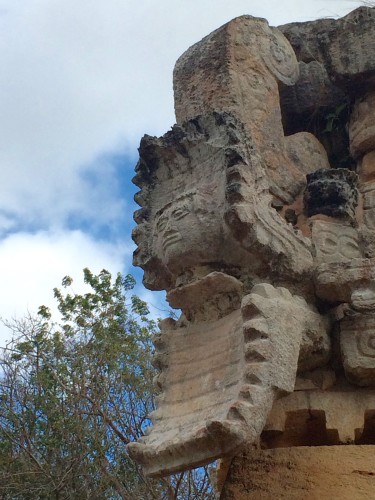 Xlapak (free) has a classic Puuc palace, its front doorway representing the face and jaws of Chac. Even better are the lovely trails through the woods, giving you a glimpse of colorful Yucatan birds.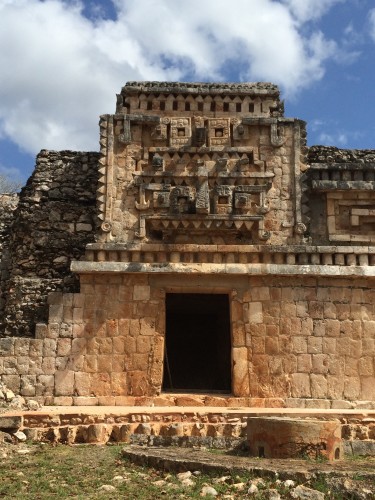 Sayil (M$47) is a huge site, fairly recently excavated, with an especially grand palace.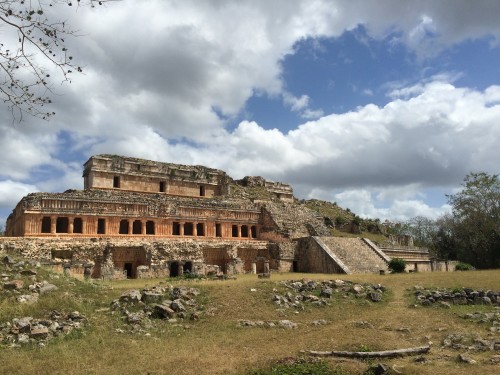 The palace facade features some "diving gods," shown with their legs flailing upside down (shown in the center of the photo below):
It's also known for its funny God of Fertility stela, probably dating from well after the city's abandonment, when it would have been used only for cult ceremonies. (A stela is a large carved stone set up in ceremonial areas, usually depicting a royal or a god.)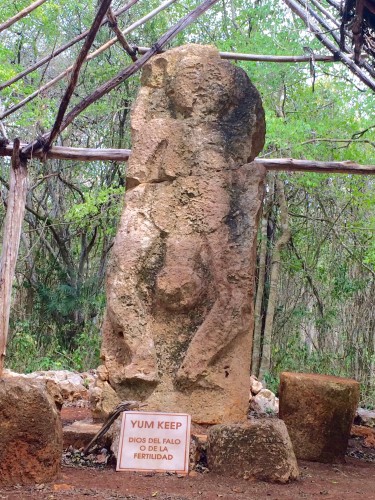 Kabah (M$47) is the most popular Puuc site after Uxmal. Its main palace takes the Chac theme to the level of beautiful absurdity, the god's face repeated endlessly on the facade. His snout even forms the stairs to the entry doors! The visual impact is thrilling — busy but still somehow harmonious.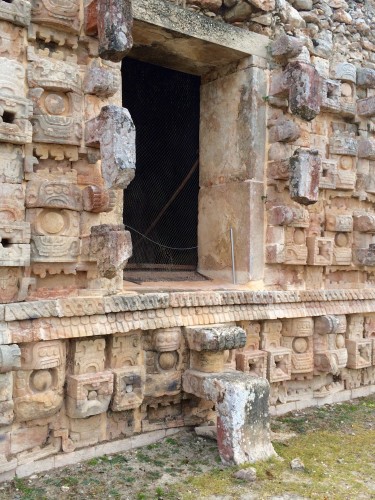 I ate lunch in the sunny modern town of Santa Elena, at a B&B called The Pickled Onion. The service was a bit grouchy, but the food was delicious and very vegetarian-friendly. I had sautéed chaya (the predominant leafy green down here — kind of a cross between spinach and kale, but poisonous if eaten raw!) with cranberries and feta cheese, mashed sweet potatoes and tortillas.
Near the town's main church is a spooky museum (M$10) all about regional burial practices, both ancient and contemporary. The "star" attraction is the mummified remains of four children found underneath the floorboards of the church during a renovation project in 1980.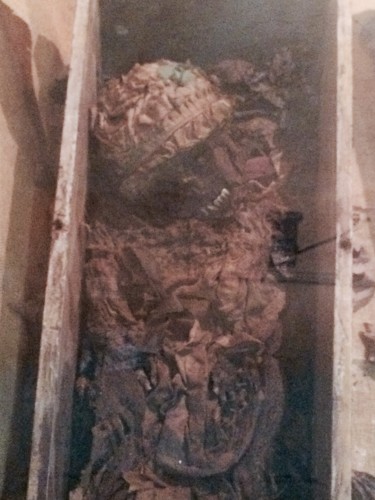 The mummies, thought to have died of some infectious disease, are still wearing European-style bonnets and clothes, leading some to conjecture that they're the children of German immigrant families who came to the area in the 19th century. The bodies weren't purposefully mummified, but the dry conditions in the church along with the oak leaves they were buried with are thought to have caused their preservation.

This was the night I was supposed to spend in Campeche. But given my experience in Mérida, I decided to swallow my non-refundable hotel reservation there and instead stay in the countryside amidst the ruins. I headed instead to the isolated agricultural town of Hopelchén, about 90 minutes from Santa Elena.
Driving into town, I was confronted with the incongruous site of a bunch of tall white gringos walking around. But wait: They're wearing funny clothes! Turns out these aren't just any gringos. They're German Mennonites, who began migrating to the area to farm beginning in the 1980s.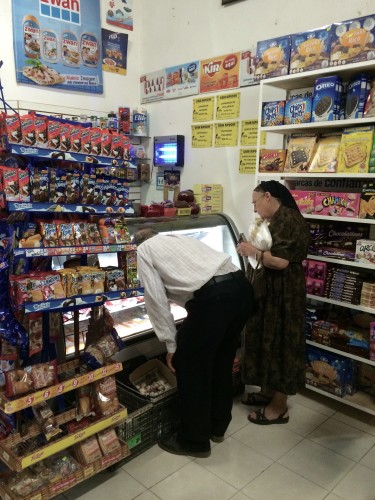 Apparently relations between this new population and the native Maya are cordial but not particularly warm. I could sense a low level of tension even from casual observation: Little social intermingling seemed to occur between groups.
Hotel: Los Arcos, on the main square, about US$12. This made the Hotel Puuc seem luxurious by comparison: A single bare lightbulb, a bed and an overhead fan were the only furnishings. The shower was a trickle. Still, I enjoyed an especially restful night of sleep here, maybe in part because the town itself was so peaceful. The hotel didn't have functioning Wi-Fi, but I was able to connect a short walk away at the town's friendly Community Center.
Note: Leaving Oxcutzcab to follow the Ruta Puuc, the roads become something of a tangle. But if you follow the signs marked "Ruta Puuc" or "Zona Arqueologica" you'll be fine. Know that coming from Oxcutzcab, you'll be seeing the sites in the opposite order described in most guidebooks, hitting Labná first.
Day Five
Hopelchén to Xpujil (2-3 hours, plus stops)
This day started with a bit of a panic: I couldn't find my rental car key. Thinking I must have left it at the Community Center or a shop where I'd bought some food, I spent the morning charging around town in a fruitless search.
A friendly pharmacist and his mother noticed my alarm and offered to help. Word spread throughout the town and — of course — the key turned out to have been in my hotel room the whole time. Once again, I felt fortunate to be among such honest and helpful people.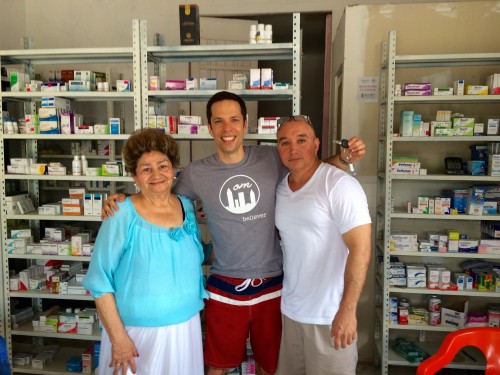 Relieved, I ate a delicious chaya omelet at the awesomely welcoming Kafe d'Aida, on the other side of the main plaza from Los Arcos. It's run by a mom-and-son team.
I'd read online that Highway 269 between Hopelchén and Xpujil, my base for exploring the region around Calakmul, was long, devoid of services, and in pretty tough physical shape. So before I left Hopelchén, I geared myself up for a trying day of travel, filling up the gas tank and stocking up on food and water.
On the way out of town, I hit a couple of Maya sites in the so-called Chenes architectural style. These cities thrived a few generations before the Puuc sites, and the architecture is an older cousin to the Puuc style — ornate, lots of frieze carvings.
Tabasqueño (free) lies two kilometers off the highway at the end of a rough dirt road. Honestly, the road was more than I probably should have attempted in my little Chevy Spark. I ended up parking the car about half a kilometer from the entrance, when the road got really rutted and bumpy, and walking to the entrance gate.
The site was deserted except for a couple of groundskeepers who politely asked me not to climb on top of the main temple palace. The temple itself featured the trademark monster/god-face entry door. I noticed the extreme narrowness of the stairs. If Maya priests or nobles ever climbed them, they must have stepped very daintily indeed.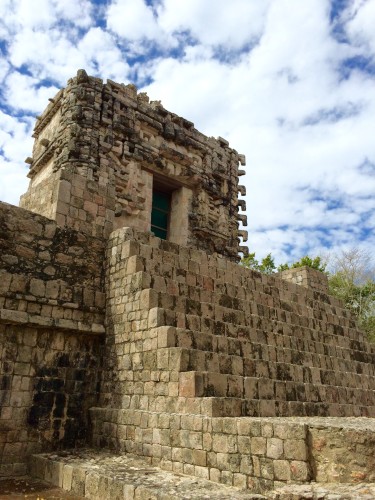 Hochob (M$39), just outside the modern town of Dzibilchen, is the star of the Chenes sites. It's about 15 kilometers off the main highway, down a paved road this time. (Note: There's a huge Pemex station at the turn-off — the last obvious place to fill your tank before the drive to Xpujil.)
To get to the Hochob site, I climbed a steep initial staircase and was rewarded with a small and intimate plaza enclosed on three sides by buildings. The most famous of these is the monster-face palace — maybe the finest example of monster-face palaces!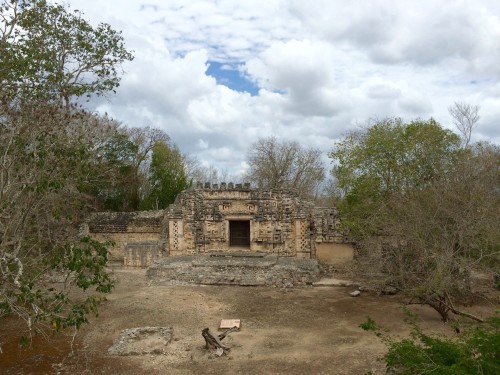 At the sides of the monster's mouth, snakes barf out what look like either swords or phalloi. Remnants of red-painted stucco surround the eyes.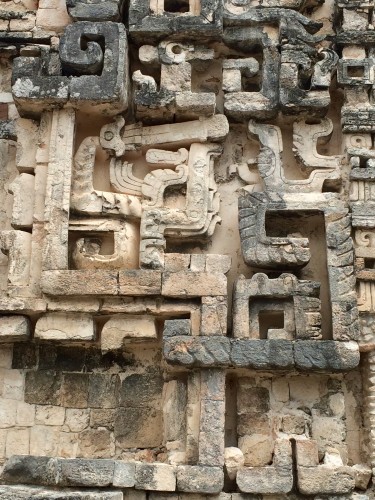 Be sure to walk around behind the building for a sweeping view of the surrounding countryside. On the way back down to the parking lot, you notice smaller buildings dotting the hill, and it's easy to picture Hochob as an especially picturesque hill town in its prime. It's still very pretty now.
From here, I girded myself for the long haul to Xpujil. I'd been preparing for this to be an epic, pot-holed, many-houred trip through dense jungle. But the reality turned out to be far less challenging: A smooth, well-maintained highway that took no more than two hours to drive. To judge from all the road construction I saw along the way, the journey looks set to become even easier in the future.
As I pulled into the hard-scrabble town of Xpujil (pronounced Shpoo-heel), a dusty one-road strip out of a Hollywood Western, I had plenty of left-over energy, so decided to explore a couple more Maya sites before checking into my hotel.
I was now in the Rio Bec region of Maya sites, which thrived after the Puuc area was largely abandoned. The architectural style of these cities is marked by large facade towers with curved corners, constructed mostly of the ghost-white limestone that's predominant in the area. Gone are the elaborate facade carvings and monster-mouth doorways, replaced by a look that's more austere and restrained.
Becán (M$52) was the first site I visited, just a few kilometers outside Xpujil. It was among the largest of the Rio Bec cities. Its name means "moat," and indeed the city was entirely encircled by a deep moat whose bed you can still see as you enter. It was one of the only Maya cities to use this defensive measure — perhaps to protect it from invaders from its booming contemporary Calakmul, about 100 kilometers to the southwest.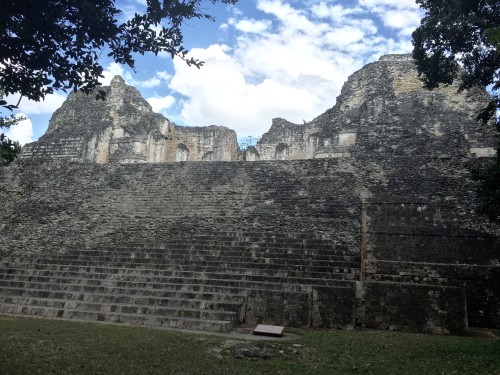 Maybe its fortification is what gives it such a dense, urban feel, even centuries after its abandonment. It's a site you can really lose yourself in, climbing up and down buildings and residential stairways and down arch-enclosed streets reminiscent of something you'd see in an Italian medieval city (apologies for all the Eurocentric references, they just happen to be my past frame!).
Ropes dangle from the stairs of Structures 8 and 9, inviting you to climb, but confusingly a sign in front of Structure 9 forbade climbing. So I only climbed Structure 8, at the top of which you can closely examine the delicate curved walls of the towers.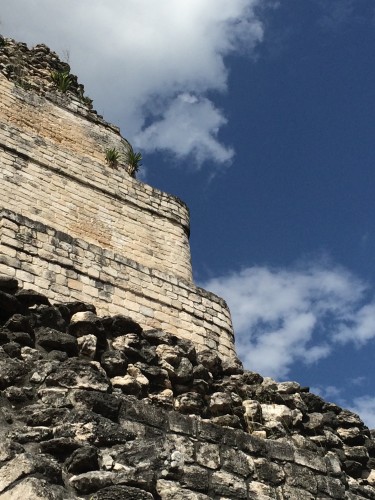 This stucco sculpture, probably of the sun god, is a fun sight to encounter on the back of one building.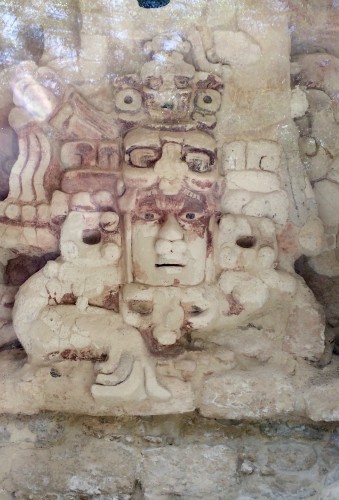 More than any other site I visited, Becán felt like a city used not just for ceremony but for everyday living. I could picture people bustling through its streets, going about their business. It was for this reason that it turned out to be one of my very favorite sites.
Very nearby is Chicanná (M$47), thought to be a kind of nobles-only "gated suburb" of Becán. The buildings here feature more decoration than the ones at Becán, and include a monster-mouth in hommage to the earlier cities to the north. It was a lovely, leafy site to wander through, the buildings forming a stately sequence, though I had to rush since closing time was near.
Hotel: Hotel Maya Balam, about $40, a kilometer or so from the center of Xpujil. It featured nice rooms, air-conditioning and fairly reliable Wi-Fi.
Day Six
Xpujil to Calakmul and back (1.5 hours each way, plus time to gawk at wildlife)
Xpujil is about an hour and a half away from Calakmul, but it's the closest place to stay unless you want to camp at Campamento Yaax'Che or pay for the pricey but by-most-accounts-lovely eco-resort Hotel Puerta Calakmul.
The ruins lie entirely within the Reserva de la Biosfera de Calakmul, an enormous expanse of jungle extending to the northern border of Guatemala. You drive about 45 minutes west of Xpujil, then another hour or so due South to reach the site. You pay one entry fee at the gate to the bioreserve, and another at the ruins, for a total of about M$280.
You gotta pack in everything you'll need — water, food, sunscreen — because there are no services at the site.
(One regret: I should have visited the small site of Balamku, famous for its stucco friezes, in the morning, before Calakmul. As it turned out, I didn't have enough time to visit in the afternoon as I'd planned because Calakmul itself is so big.)
I'd read that the drive through the biosphere is good for spotting jungle wildlife — and my expectations were, if anything, exceeded. Just driving along the road, I spotted a bunch of wild turkeys, a small wild boar and a grey fox. When I got out of the car to get a closer look at a turkey, I also saw a toucan in the trees! Entrancing. I felt fortunate to be traversing such a special and unspoiled corner of the universe. Most of the time I was the only car visible on the road, though a few did pass me on the way in.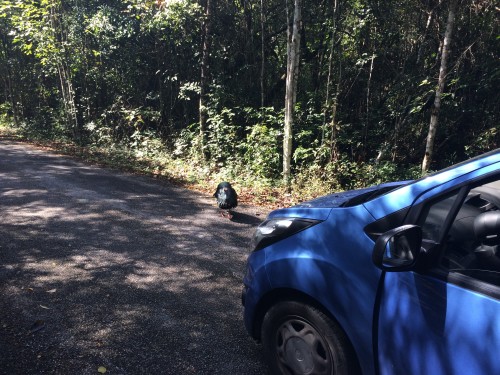 Arriving at the Calakmul site around 9:45 a.m., I was a bit disappointed to see the small parking lot full. Oh well. It had been worth taking my time on the drive in to gawk at the animals and enjoy the greenery.
Inside the ticket building, I decided to hire a local guide named Manuel to show me around. I thought it'd be helpful at such a large site, number one, and a chance to practice my Spanish. Also, hey, why not give back to the local economy a bit more. He'd told me his standard rate was M$300 for a three- or four-hour tour; I ended up paying him M$400 for close to four hours.
It takes about 20 minutes just to walk from the ticket building to the site. The first thing I noticed was how buggy the place was — a result of the site being lower-lying and the air more humid than any other I visited. A little bug spray would've been a good idea, though I didn't wear any and didn't get eaten too badly.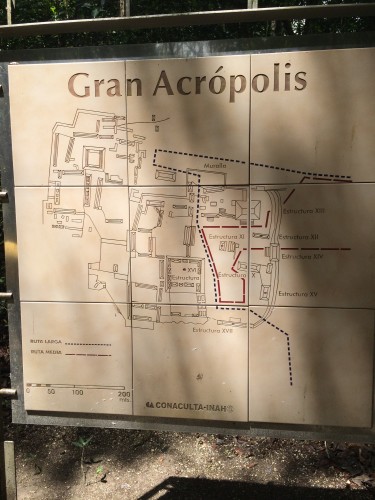 Calakmul is indeed enormous, and the main attraction for many people is that you can still climb all of the pyramids — some of the tallest in el mundo Maya. The views are staggering, especially from Structures 1 and 2, the two tallest. All you see are acres of uninterrupted jungle. In the far distance, the pyramids of El Mirador, a site in Guatemala that's even more remote than this one, just barely poke above the trees.
It's also famous for its hundreds of stelae. Unfortunately, the carvings on many of these have eroded away because the local limestone is very soft. But you can still make out details on some. It's easy to imagine the stone forest they would have created in the city's prime — monument after monument to gods and nobles.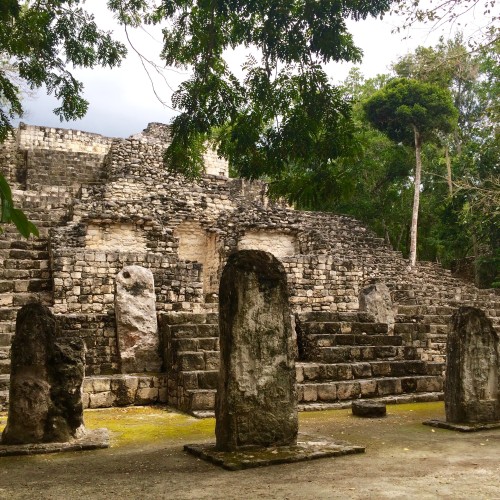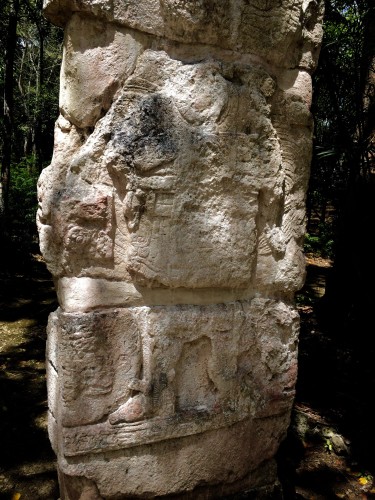 After Manuel took off, a brief rain fell. I made a reverse-circuit back through the site. I climbed Structures 1 and 2 again on my own — sort of like riding the roller coaster a second time.
Somehow, though, I wasn't feeling the emotional connection with Calakmul that I had with Uxmal or Becán. Maybe it was because of the deeply eroded state of the buildings and stelae — grand as they still are. Or maybe the scale of the place was simply too huge. Or maybe it was just the darn bugs.
I was reflecting on all this, walking down a deserted path through the forest, when the unexpected highlight of my Calakmul visit occurred. A cracking of tree branches above alerted me to a family of spider monkeys: two adults and an adorably small kid, their rubbery limbs carrying them from one limb to the next. I sat on the ground and for a good 20 minutes watched them tangle and loop their way through the canopy. Their movements were an endearing mix of awkward and graceful.
The monkeys seemed entirely unconcerned by me, until the one I took to be the mom (she stayed close to the kid) met my eyes and beat her chest a few times. Later, when I looked up the gesture online, I learned it's a kind of warning: Keep your distance. I think I grinned dumbly in response.
So there it was: The connection I'd been seeking. This time, it just happened to come through interacting with my distant primate relatives, entirely incidental to the site, rather than the ancient buildings. I left Calakmul feeling an unexpected sense of peace.
On the drive back, a curious grey fox stepped out into the road. She hid as I approached, but when I parked the car to observe she came back out to sniff around. I had a chance to watch her (again, I was getting a female vibe — not sure why) for a few minutes before she ran back into the forest.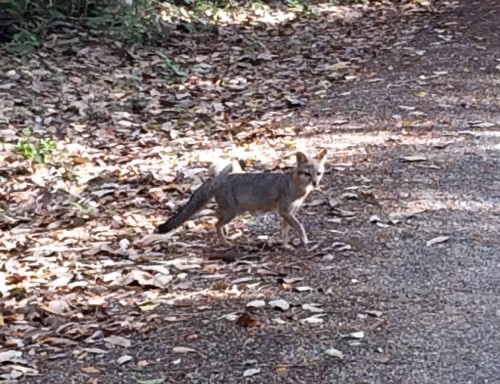 Hotel: Hotel Maya Balam again.
Day Seven
Xpujil to Tulum (4 hours)
I bought a quick breakfast at a pan dulce stand in town, then hit the road for my last stop: Tulum.
On the way, I stopped to see Kohunlich (M$62), an important Rio Bec city. It was a surprisingly big site, again marked by the delicate white-tile facades associated with this corner of the Maya world.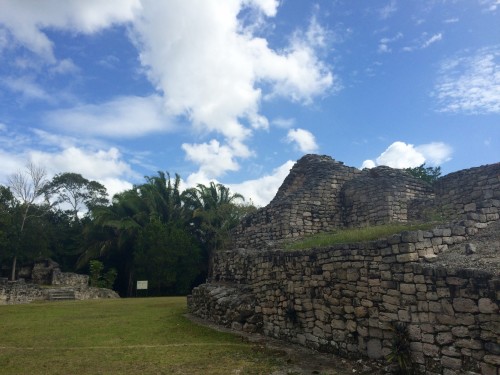 Huge, leering god faces festooned one of the pyramids, toward the rear of the site. Climbing the stairs, I could imagine the intimidation and sense of awe these would provoke in anyone (priests? sacrifice victims?) allowed to ascend to the temple.
The vegetation here was strikingly different than the scrubby jungle to which I'd become accustomed. Palm trees towered all around, letting me know I was getting closer to the Caribbean.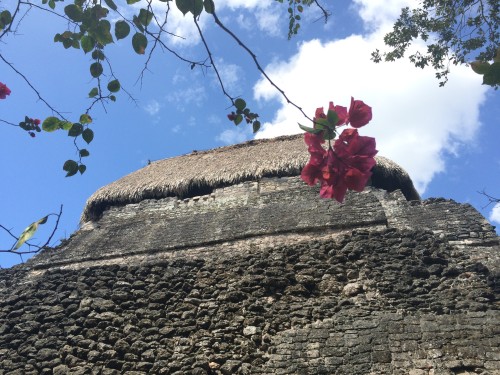 And — crack of branches — there was another family of spider monkeys! The thicker vegetation meant I couldn't see them as well as at Calakmul, but the encounter thrilled me again anyway.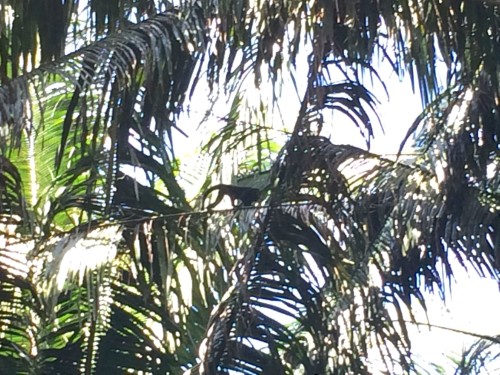 I stopped for lunch in Felipe Carrillo Puerto, the only sizable town I'd pass before Tulum, founded in 1850 by Maya people during their revolt against European colonials (the so-called Caste Wars). It was a sun-beaten but friendly place, and not too large to navigate in a car. I ate delicious cheese-and-vegetable quesadillas at Taqueria Maya, somewhere right around the corner of Calle 66 and Calle 71 near the center of town.
Pulling into the town of Tulum, an hour later, was like diving into the deep end of the tourist pool. Here, suddenly, were dozens of tourists in flip-flops, travel agencies, restaurants. It wasn't at all unpleasant — just clearly a place set up mostly for visitors.
The Maya ruins of Tulum lie at the extreme north end of town, and right across the street from the entrance gate was my hostel, Posada Los Mapeches. It doesn't look like much from the outside, especially since it's right on a busy highway, but that's all forgotten once you walk through the gates and meet Chelo, the most charming dueña known to hostels.
Chelo greeted me with a hug and a kiss on both cheeks. I'd barely had a chance to take that in before she was brandishing a bottle of pesticide and asking me to bring out both pieces of my luggage, which she proceeded to spray down ("I like to keep out the bed bugs, corazon," she explained in her mix of English and Spanish).
After drawing me a chaotic map of the town's attractions with colored pencils that I think make sense only to her, Chelo showed me to my private room. It was in a kind of bungalow on stilts — like a treehouse, complete with thatched roof. No air conditioning or private bath, but one very powerful fan.
I spent the late afternoon and evening on the beach, which was about a 1.5 kilometer walk away. Basically, in Tulum you can either pay a ton and stay right on the beach, or pay a lot less and stay in town.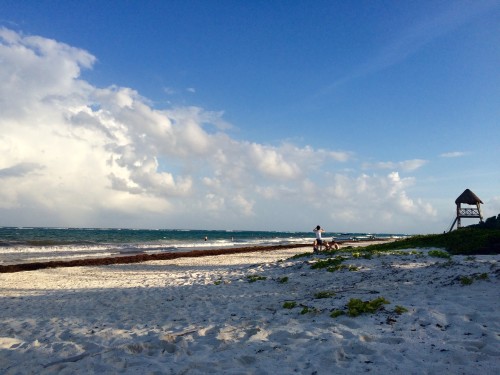 The beach featured pristine white sand but also a lot of washed-up seaweed. It was busy but not crowded. I found a spot with a bit less seaweed and splashed into the ocean. It felt wonderful to swim in the Caribbean again. I'd never considered myself a beach person, or an ocean swimmer, before visiting Puerto Rico a few years back. Now I'm fairly addicted. There's something healing about this particular sea, with its clear waters and vivid fish and clean sands.
I wandered around town that night and ate a tasty wood-oven pizza at a place whose name I forgot to record, right on the main road. I walked back to Mapeche and had a sound night's sleep, ready to hit the ruins first thing in the morning before the major crowds descended.
Chelo had warned me that the highway could be noisy at night, but for me, once I turned on that turbo-charged fan, all else was drowned out. I slept peacefully.
Hotel: Posada Mapeche, $46. Super charming and clean place with delicious included breakfasts. Private rooms available, but shared bathroom. No air conditioning but it's not really necessary.
Day Eight
Tulum (0 hours!)
Chelo serves an included breakfast every morning from 8 to 10. She'd recommended I visit the Tulum ruins when they first open at 8, spend an hour or so there before the masses arrived, then come back in time to eat.
So that's exactly what I did, waking early and hopping on one of the fleet of free bikes she keeps for guests to use.
I'll be honest: I wasn't really in the mood for ruins, especially crowded ruins, especially crowded ruins I felt pressured to visit right at opening before I'd drunk my coffee. Still, I went — mostly because not to go would have felt like missing out.
And given that mindset, I had about the experience you'd expect: Dutiful, cranky, but studded with moments of appreciation and awe.
The setting of these ruins is what's most special. They're perched on a low bluff right at the edge of the glittering Caribbean. The buildings are much smaller-scale than what you'll find in the inland cities. The main temple, with its columns and pediment sculpture, is almost Greek-looking.
Unlike many other Maya cities, Tulum was occupied right up until (and for a couple generations past) the Spanish conquest. Many years after its abandonment in the 1500s — probably due to its population being decimated by European diseases — it became an important seat of Maya resistance during the Caste Wars.
A lot of visitors to Tulum also visit Cobá, an important Maya city about an hour inland. You can still climb a pyramid there. Several cenotes also make for popular day trips. I didn't do any of that because my agenda for the last day of the trip included just one thing: relaxation.
After eating Chelo's stupendously good and large breakfast and drinking her cinnamon-spiked coffee (the first decent stuff I'd had in days — Yucatan isn't a big coffee region), I spent the rest of the day on the beach. I found a little spot of shade below a hut to set up camp.
I read, splashed around in the ocean a little, and found myself chatting with a motley mix of fellow travelers who ended up sharing the shade with me. These including a German girl who'd recently quit her job and was now traveling with an Australian man she'd met in Panama; two highly inebriated Mexican men, one of whom nearly fell on me when he stood up to swim; and a Colombian gay man who ran a yoga studio in Bogota.
It made for a randomly relaxing, beach-bummy coda to my week of ruin-running. According to my iPhone, I'd been averaging more than 20,000 steps a day — about 10 miles of walking — so the rest was welcome. I wrapped it up with a  delicious juice at Flor de Michoachan.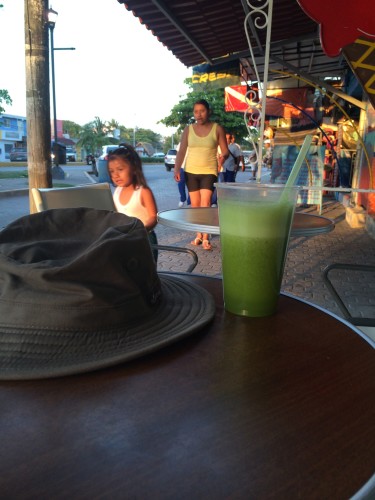 After another relaxing night at Mapeche, I spent most of the next day traveling home: Returning the rental car, getting to the airport, etc.
Some closing thoughts:
I liked how this trip was a mix of plans and spontaneity. Mexico's affordability and informality invites that kind of approach.
Time slowed down spectacularly on this trip! Each day felt like a week, so packed was it with new experiences and sights. Maybe it was because my mind kept needing to recalibrate itself to my surroundings.
I was pleasantly surprised by how much Spanish vocabulary I'd retained from past travels. It encouraged me to keep trying to learn, even if I don't have a chance to use the language in my everyday life.
I felt utterly safe the whole time. Even looked-out-for, as the wallet and car-key episodes showed.
Of the Maya sites I visited, here were my favorites, in order:
Uxmal
Becán
Izamal
Calakmul (for the wildlife even more than the ruins)
Labná
Kohunlich
Chicanná
Kabah
Tabasqueño
Hochob
Xtompak
Sayil
Tulum
Practicalities
Time. The Yucatan isn't very big, so you can cover quite a bit of it driving a few hours a day for a week or so.
Cost. The whole trip cost me about US$1,000, including airfare (I used miles) but you could do it for even less if you're willing to stay in cheaper hostels.
Car. The rental car and gas were the largest expenses. The rental cost US$223 for the 8 days, including all necessary Mexican insurance. (Long story short: The Mexican government requires separate insurance even if your credit card covers you for international rentals.) Gas cost about US$3 per gallon, somewhat higher than current prices in the U.S.
Gas. Tip: Fill up your gas tank whenever the opportunity arises. Mexico isn't like the U.S., with competing gas stations on every other corner. Pemex, the state-owned gas company, operates the only official stations in Mexico, and locations can be few and far between, especially in rural areas. On more than one occasion, I got nervous watching my fuel meter flatline as I waited for the next Pemex to appear. If you do end up in dire straits, look for mom-and-pop car repair places, which sometimes sell gas from plastic jugs.
Alternate route. Another tip: Many tourists do a similar route to mine but skip Calakmul to visit the more famous and by all accounts gorgeous site of Palenque instead. This is something to consider as you make your journey. Are you wanting more classic ruins? If so, pick Palenque. Or are you wanting a glimpse of some jungle wildlife? If so, pick Calakmul.