There are few better ways to immerse yourself in the geology and nature of Northeast Ohio than to kayak the Cuyahoga River.
Huh? Geology, nature, Northeast Ohio? In the same sentence?
Well, yeah.
The river flows through a full spectrum of landscapes, from farms to acres of national park woodland to the angry steel furnaces and towering skyscrapers of downtown Cleveland.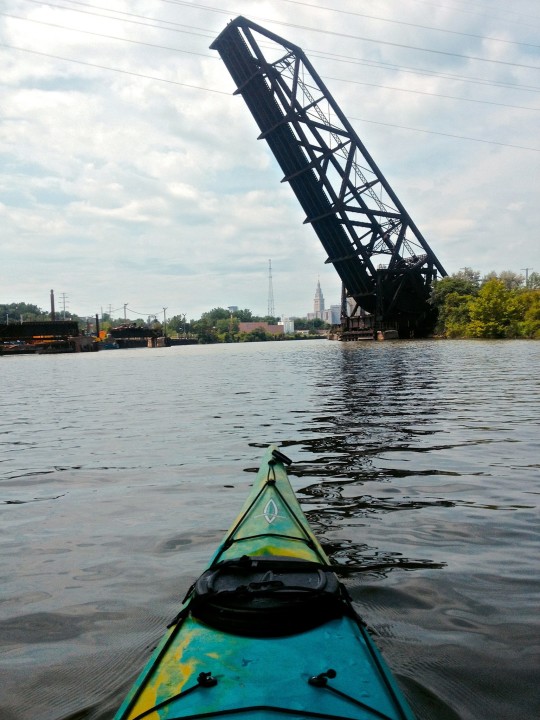 I took a two-day paddle down the river with some friends in July 2014. The experience was one of the deepest I've ever had of the place where I live. I emerged from the journey with a better, almost primal familiarity with the complex region that is Northeast Ohio. I also felt like I'd gone on an immersive natural adventure without having left my backyard — fully refreshed and ready to re-park myself in front of a computer.
And last but not least, I had a cracking good time and made some new friends.
You can do it, too! Of course, you'll need to do a bit of preparing. But chances are a trip down the Cuyahoga is a lot more accessible than you think.
Here's what you need to know to make your own Crooked River conquest.
 Get Ready!
1. Assess your physical fitness.
You don't need to be training for an Iron Man, but kayaking does require a fair amount of physical fitness. I'd say the two most important components are a decent sense of balance and good upper body endurance. Notice I said upper body endurance, not strength. You'll be paddling almost nonstop, so it's important that you can hold up a paddle and push through water for hours at a time. Vigorous yoga, Pilates and/or light weight training are good ways to prepare for this.
Cardiovascular fitness also helps, but rare are the times you'll find yourself out of breath. Kayaking is mostly an anaerobic activity.
2. Take a paddling course.
A week and a half before I paddled the river from Kent to Cleveland, I was like most Northeast Ohioans. My feet had never seen the inside of a kayak, and my only experience of the river was crossing it in a car on high-level freeway bridges.
If that also describes you, you can rectify your ignorance the same way I did: By taking a one-day crash course. I took mine through Kent State University's Crooked River Adventures, but 41 N Kayaking Adventures and Keelhaulers Canoe Club in Cleveland also offer classes.
These courses will teach you the basics of kayaking. You'll learn how to put on your gear, tips for navigating river obstacles, how to paddle and how to make a "wet exit" — ejecting yourself from the boat if you flip.
The great thing about taking a lesson at Kent State is that you'll learn on the Cuyahoga itself. The Kent section of the Cuyahoga is about as challenging a stretch as you're likely to tackle anywhere on the river save the Cuyahoga Falls rapids, so if you can make it here you can make it just about anywhere upstream.
Don't worry if you're terrified at first. It takes time to get a feel for being in a kayak, especially if you've never paddled before or you're used to the relative stability of a canoe. After a few hours, though, your body and mind will start to adjust.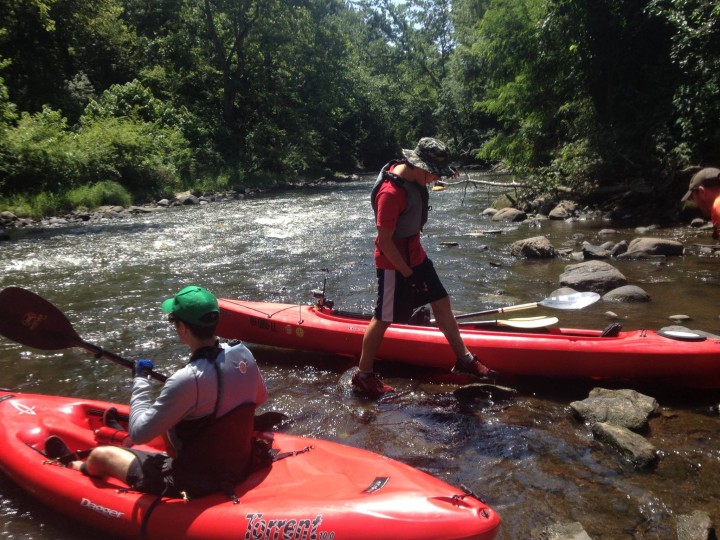 3. Plan your trip.
Hashing out the details of a trip — especially a longer, multi-day one — can be daunting. Give yourself a few weeks' lead time and tackle each question in turn, and you'll have your adventure planned before you know it.
Before you go, ask yourself these questions:
How much time do you want to spend?
First, decide whether you want to take a day trip or stretch your expedition over several days. (Hint: A day trip is probably a better idea for beginners.)
If you're doing a multi-day trip and you want to stay in nature, the primitive campground at Stanford House Hostel in Boston makes for a lovely place to stay. See below, in camping.
How much of the river can you cover?
Figure out how much of the river you can cover in the amount of time you've budgeted. On my two-day trip, we averaged between 3 and 4 river-miles an hour, but your speed will vary according to your ability and the strength of the current.
Where will you put in and take out?
The river is accessible only at certain points. This map (LINK) is a good place to plan your starting and ending points for each leg of your trip. You may also want to visit these places before your trip, so you can make sure you won't encounter any surprises (blocked entrances, fallen trees, etc.).
Where are the (damned) dams?
The Cuyahoga flows a lot more freely than it used to. Authorities removed two dams near Akron in 2013, and there's talk of taking out a few more. But several impoundments remain — at Kent, Cuyahoga Falls, Peninsula and Brecksville, for example — and you'll need to portage around them.
Warning signs, posted on overpasses above the river, will forewarn you of each of these dams as you're paddling. But you should also know where they are ahead of time in case you miss the signs. The Cuyahoga Falls and Brecksville dams are especially treacherous.
How will you transport your kayaks to and from the river?
You should also figure out the logistics of transporting your kayaks to and from the river. We rented a U-Haul for our party of seven paddlers, but if you're a smaller group you may be able to fit your boats in a car or van. If you're doing a multi-day trip, you'll also need to figure out where you'll keep your kayaks overnight. 
4. Grab some kayaks and some friends.
You should never ever ever (ever) kayak alone. So find some family or friends to go with you. Make sure at least one person in the group has some kayaking experience, so he or she can take the lead and scout ahead for obstacles.
Don't have your own kayaks and need to rent some? Try these sources.
5. Gather equipment and supplies.
You don't need a bunch of expensive equipment to kayak, but you will need some basic gear, food and water. There's a full list at the end of this post.
What to Expect
In a way, the river's sections are like chapters of a novel. Each part is different, alternating between high action and quiet lulls. Together, they unfold across a legible storyline — from chaotic, natural beginning to soaring urban climax.
Unlike a novel, though, the river is always changing. While each section has some permanent characteristics, each also evolves from day to day and year to year, according to such variables as water level, pollution and fallen trees.
Here's a rough idea of what to expect on each section of the river between Kent and downtown Cleveland. (I haven't paddled between Hiram and Kent, so can't speak to that section.) You might consider stringing together several of these sections or just kayaking one, depending on how much time you have.
Kent to Cuyahoga Falls
(9 miles, 3 hours)
Past downtown Kent, the river takes some fun twists and turns, the water slip-sliding along at a fast clip. Just north of town, it broadens and the current slows. You'll paddle nonstop between here and the approach to Cuyahoga Falls, where the water quickens again.
At downtown Cuyahoga Falls are Class 4 and 5 rapids. The elevation drops through this section nearly 300 feet, one of the fastest and most dramatic river drops in the Midwest. Only advanced kayakers should attempt this section.
Everyone will need to portage around the First Energy Dam, a 60-foot concrete wall in Gorge Metropark just upriver of downtown Cuyahoga Falls. You can put in again at Cascade Valley Park.
Cuyahoga Falls (Cascade Valley) to Peninsula
(13 miles, 4.5 hours)
Between Cascade Valley and Peninsula, the river is mostly calm, though "strainers" — fallen trees and branches that can trap kayaks — are always a possibility.
You'll also find the stinkiest section of the river here, alongside the Akron Water Reclamation Facility. Perhaps more disturbing than the odor of sewage is the sight of newly treated water re-entering the river, smelling faintly of detergent and topped with soapy white bubbles.
After that, though, there's the reward of entering the southern section of thickly wooded Cuyahoga Valley National Park.
At Peninsula, there's a small disused dam. Signs over the river warn boaters to portage.
Peninsula to Boston (Stanford House Campsite)
(3 miles, 1 hour)
This short section of river was perhaps the most fun section I did on my trip, with fast-moving but non-threatening water and plenty of twists and turns. It's also over before you know it, and a great option if you only have an hour or two.
If you're spending the night at the Stanford House Campsite (see below), you'll know to exit the river immediately after passing under two high-level freeway bridges (I-80 and I-271). You'll be at the parking lot for the Boston Store Visitor Center, from where it's an easy half-mile walk either along the Towpath Trail or Stanford Road to get to the campsite.
Boston to Brecksville
(5 miles, 2 hours)
We skipped this section because we were worried about time (needlessly, as it turned out — we arrived downtown way ahead of schedule). But by all reports, it's one of the Cuyahoga's loveliest sections, winding through dense forest and Appalachian Plateau uplands.
The low-level Brecksville dam is of the river's most dangerous paddling obstacles: If you go over it, you could end up churning endlessly in the froth. You'll know it's approaching when you see the graceful arches of the 1920s-era Chippewa Road Bridge. Be sure to portage at the Station Road parking lot, easily visible from the river. This is the last dam on the river, and the final permanent obstacle you'll need to worry about before reaching the shipping channel.
Brecksville to Valley View (Rockside Road)
(7.5 miles, 2.5 hours)
This section doesn't offer much in the way of thrills, aside from one small falls that you can easily kayak over. Mostly it's a long slog of a paddle, though the wooded scenery is pleasant enough, traversing the northernmost section of Cuyahoga Valley National Park.
Valley View to Harvard Road
(6 miles, 2 hours)
Here, the Cuyahoga begins its transition to an industrial waterway, and the landscape around you follows suit: More concrete, more infrastructure, fewer trees. The looming overpasses of I-480 and I-77 serve as a kind of unofficial gateway to this section of river.
River right, you'll pass the Ohio and Erie Canal Reservation of the Cleveland Metroparks. The reservation preserves woodland and industrial infrastructure, including the spindly Marcy railroad trestle, part of the former New York Central line still used by CSX.
Harvard Avenue to Downtown Cleveland (I-90)
(5 miles, 1.75 hours)
The Harvard-Denison Bridge is where the real industrial fireworks begin. It's also the start of the 5.6-mile federal shipping channel, maintained by the U.S. Coast Guard to be navigable by the hulking lake- and ocean-going freighters that serve the various industries along the river.
You'll know you've entered the shipping channel when the river's natural banks become replaced by corrugated steel bulkheads. The water depth here increases to some 27 feet, thanks to regular dredging. Aquatic life is almost nonexistent — not so much because of pollution, as was once the case, but because the industrialized banks offer nowhere for river fish to take shelter.
The first and largest plant you'll pass is Arcelor Mittal's steelworks, once part of now-defunct LTV Steel. There's no exaggerating the industrial grandiosity of the plant's sprawling campus as seen from the river — clattering trains carrying molten steel, huge steel jaws unloading ore from docked freighters, flames shooting from smokestacks. It's an awe-inspiring reminder of Cleveland's once-and-present manufacturing prowess.
Freighters in motion can be dangerous to kayakers because of the powerful eddies stirred up by their engines. If you encounter a moving freighter in the shipping channel, everyone in your party should pull to one side of the river, hugging the bulkheads. Stay there until the freighter passes.
Downtown Cleveland to Lake Erie
(1 mile, 20 minutes)
After you cross under the brand-new I-90 bridge at the north boundary of Cleveland's Tremont neighborhood, most of the heaviest industrial activity ceases. You're now in the urban wonderland of Downtown Cleveland, with its earth-toned skyscrapers and seemingly endless parade of bridges.
This part of the river really is a living museum of bridge design. You'll see retired jackknifes, lift bridges whose spans still raise to allow freighters to pass underneath, and the red-steel Center Street swing bridge, which rotates 180 degrees — to name a few.
This part of the river is finding a new balance between natural and urban uses. The Scranton Flats section of the Towpath Trail opened in 2014, providing nearly a mile of multipurpose trail and replacing steel bulkhead with natural riverbank.
If you want, you can stop off for a break at Cleveland Metroparks' Rivergate Park. After pulling up to the wooden dock here, the new Merwin's Wharf bar/restaurant is just stumbling distance away.
The final mile or so of the river is manmade. Originally, the Cuyahoga emptied into Lake Erie about 4,000 feet to the West of its current mouth.
As you enter Lake Erie at the 1940s-era Art Moderne Coast Guard Station and Wendy Park, the water becomes choppy and directionless beneath you — entirely different from the mostly smooth ride provided by the river.
You now have two options for ending your journey. Either pull into the docks of the Coast Guard Station, if they're open, or beach yourself on the northern shore of Wendy Park — a more primal and satisfying experience, in my opinion!
Camping
Camping overnight in Cuyahoga Valley National Park is a wonderful way to deepen your natural immersion.
The Conservancy for Cuyahoga Valley National Park maintains five primitive campsites behind the historic Stanford House in Boston Township. The sites are about a half-mile hike from the river along the Towpath Trail. The fee is $20 per night. Potable water, a Port-A-Potty and a communal fire circle are provided.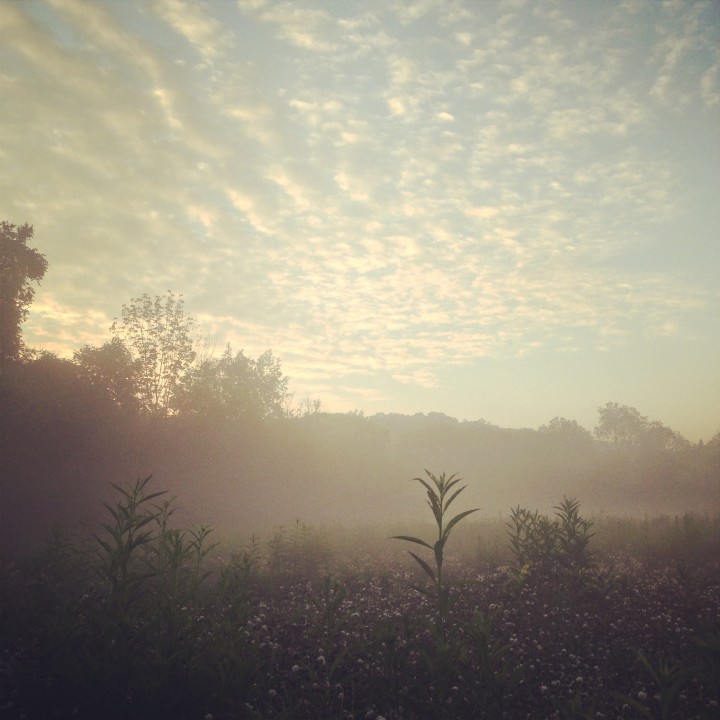 The sites are open between Memorial Day and Halloween. You can reserve one by calling 330-657-2909, ext. 119.
Unless you've got a big kayak, stowing all camping equipment is going to be tough. Arrange to have someone meet you with your tent and other supplies at the campsite.
Equipment and Supplies
What to take and what not to take? Check it out.
Lifejacket. Of course.
Gloves. Especially if you're a new paddler and haven't built up calluses, buy a pair of gloves with extra padding at the palms and the crooks of your thumbs, where you'll be gripping the paddle. Biking gloves should do the trick. I used these more specialized ones and emerged almost unscathed.
Waterproof Pouch or Bag. Everything in your kayak — including your person — is going to get wet. A basic waterproof bag or pouch can protect your wallet, keys and snacks.
Drinking Water. Take plenty — at least a couple liters. With your hands constantly busy, it's easy to forget to rehydrate. Make sure you break frequently to drink. (You might even consider a hands-free hydration system such as a Camelbak.)
Snacks. By some estimates, paddlers burn as many as 600 calories an hour. To keep yourself fueled, pack a selection of portable, waterproof food such as energy bars, apples and trail mix.
A note on clothing and shoes:
You don't need to buy any specialized clothing or shoes to go kayaking. It's best to wear  stuff that's relatively quick-drying: swimming trunks, for example, make ideal pants. I also wore a UV-protected long-sleeved shirt to protect my arms from burning, but any old thing is fine so long as you protect yourself from the sun.
Oh, and if you are wearing shorts or trunks, be sure to put extra sunscreen on your knees! They will be exposed almost the whole time you're paddling.
Other stuff to take:
Rain jacket
Sun-protective hat
Sunglasses
Sunscreen
Other Resources
Map
Invaluable map of the river showing rapids, impoundments and places to refill water
http://watercraft.ohiodnr.gov/portals/watercraft/pdfs/maps/eastern/0113Cuyahoga.pdf
Water Quality Monitoring
(The testing site is in Brecksville)
http://www.ohionowcast.info/nowcast_cuyahoga.asp
List of access points
http://coastal.ohiodnr.gov/lake-erie-access/public-access-rivers/cuyahoga-river
That's it! Enjoy your trip!
Anything I've missed? Feel free to let me know in the comments!