High temperature: 50, low: 40
Today we went to one of three houses that Chilean national hero Pablo Neruda maintained. Neruda is best known today as a poet, but he also had a day job — as a diplomat. In 1971, he won the Noble Prize. Busy guy.
Isla Negra is a dot of a town, about 1.5 hours by bus ($6 each way) south of Valparaiso on the coast. We walked to the bus station, about 20 minutes from our hostal. I forgot to write yesterday about the student protests here: They are incredibly violent at the moment, students occupying buildings and protesting in the streets because of the high cost and poor quality of college. Here's a college building that's been occupied (see the sign to the left, "en toma") with sign saying that to protest is a right. More on all that later.
Lower Valparaiso, down by the port, has some amazing buildings, most in some level of disrepair, and a lot of poverty. People begging on the street, mangy (but invariably sweet) street dogs. But also amazing busy-ness and economy. I was thinking: Neighborhoods like this are what we chose not to have in Cleveland. Back in the 1950s and 1960s, during urban renewal, we leveled a lot of our most urban neighborhoods in an effort to make the poverty invisible. It didn't work, of course, just pushed it more to the more suburban-style fringes.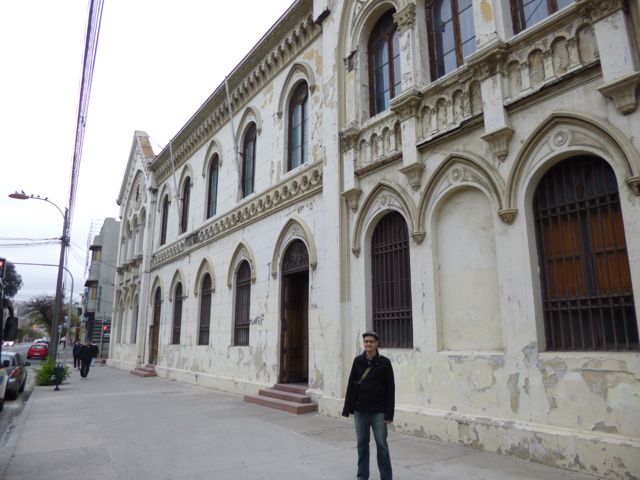 Dan also found an antique shop he liked. "Liked" is mild. Fell in love with.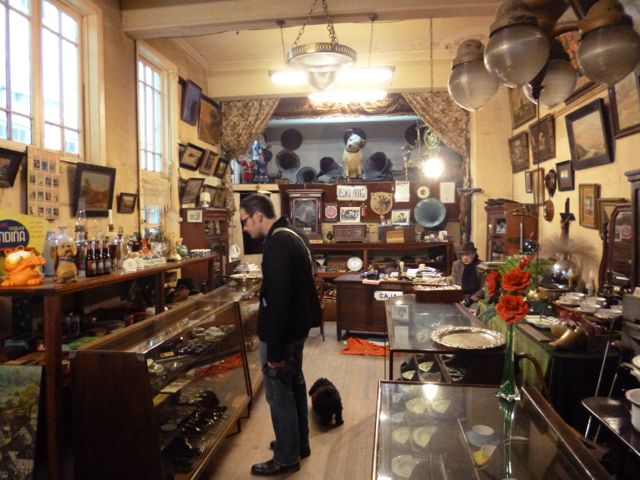 It rained and/or was foggy all day yesterday, so we didn't have the greatest views from the bus, but the countryside was pretty: Hills and bright green grazing fields for sheep and cattle. It reminded me of Scotland.
We ate lunch (more reineta fish!) at a little place along the main street. There was a cozy fire burning in the fireplace.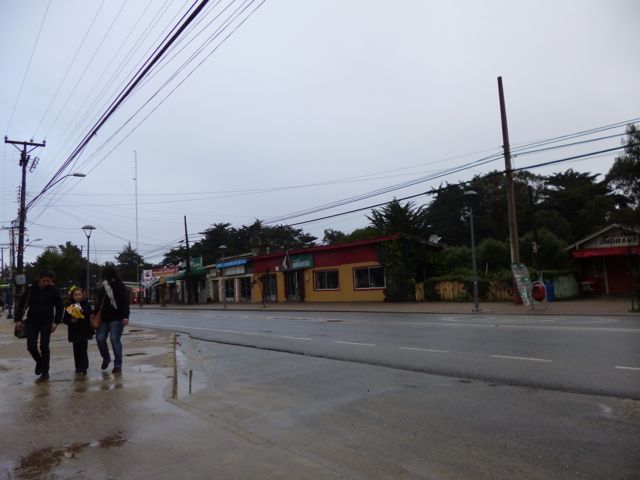 And then we found our way down to the house. It's a crazy maze of a place, which Neruda apparently added on to and changed throughout his life (admission: $8).
A small but fierce street dog guards the entrance.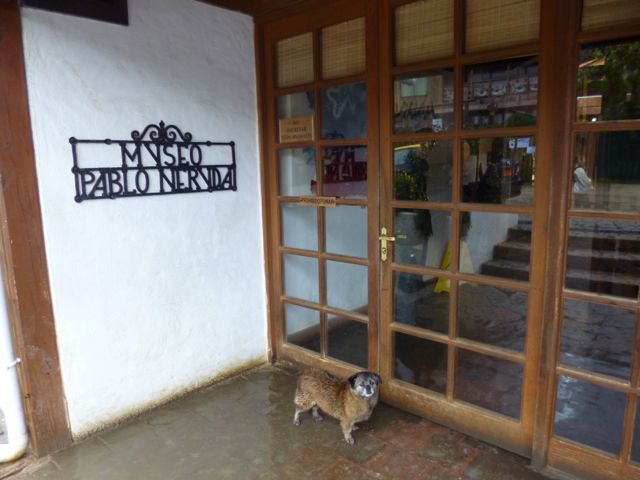 We weren't supposed to take pictures inside the house, but I decided that was only because they wanted to sell more postcards and snuck a few anyway.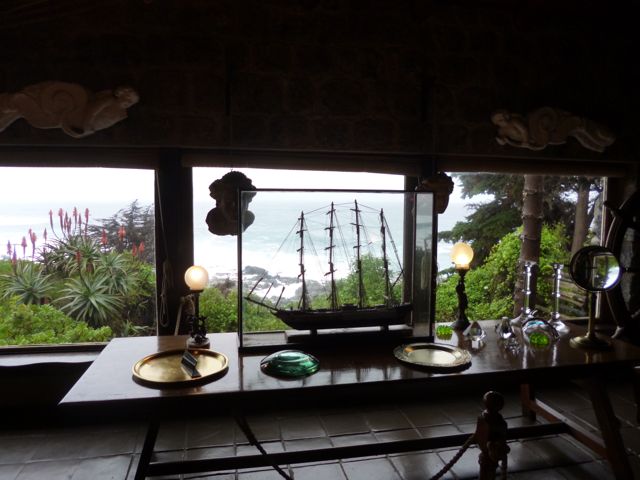 He was a big collector of ship mastheads, and they're placed throughout the house like ghosts.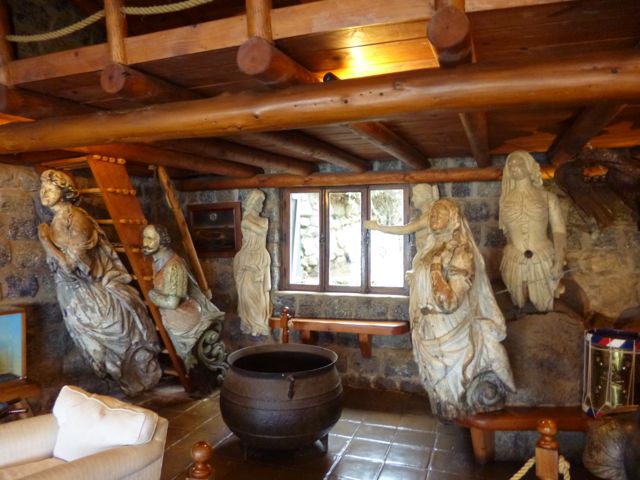 His bar, with the names of dead friends etched into the ceiling beams. The audioguide said he did this so he could keep talking to them after they were gone, which I loved.
Ships in bottles.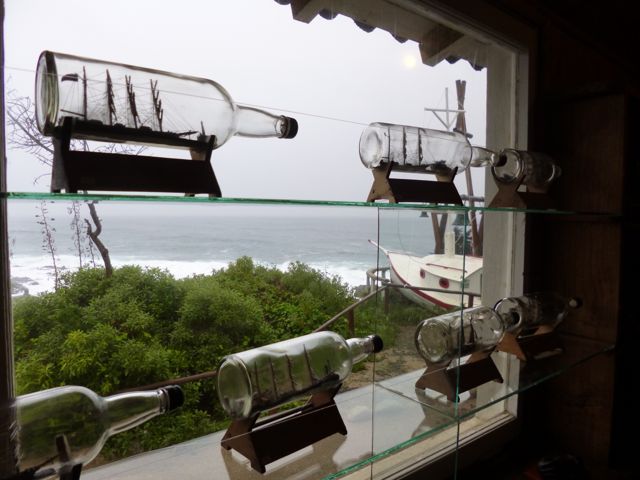 The outdoor atmosphere of this place, with waves crashing against the rocky coast just outside the windows, was pretty Gothic — and yet the house itself was warm, inviting, and surprisingly modern in feel. It was an alluring combination. Made me feel that much cozier to be inside.
Neruda placed constant reminders of his childhood throughout the house, too. Stuffed animals, an entire room decked out to look like a cabin in Southern Chile, where he lived with his father. (His mother died when he was very young.) Interesting for a man with such a public face to do this, especially in a fairly machismo culture like Chile's.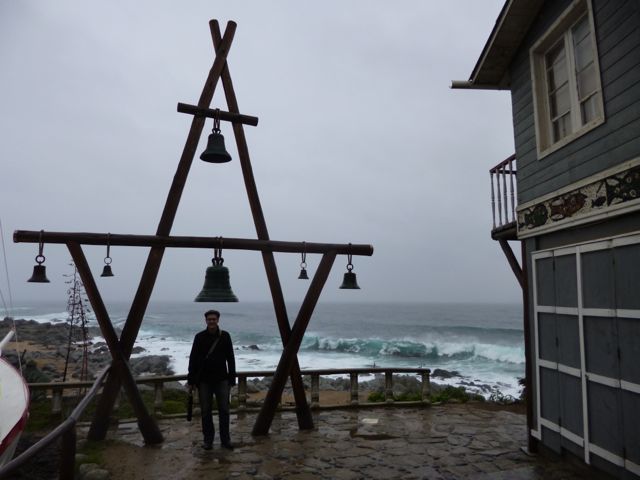 Neruda's grave, with the house in the background. He is buried beside his wife, Matilde, whom he gave the nickname "La Chascona" (Messy Hair). Best nickname ever.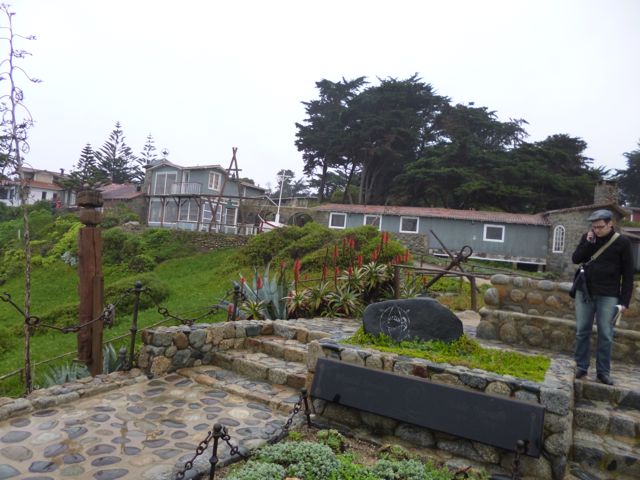 After the tour, which took about an hour, there was a break in the drizzle and we walked down to the beach. It reminded me a bit of the Oregon coast — rocky and fierce. I got close enough to touch the water, but the waves were racing in fast enough that I had to keep running back and forth to keep from getting soaked.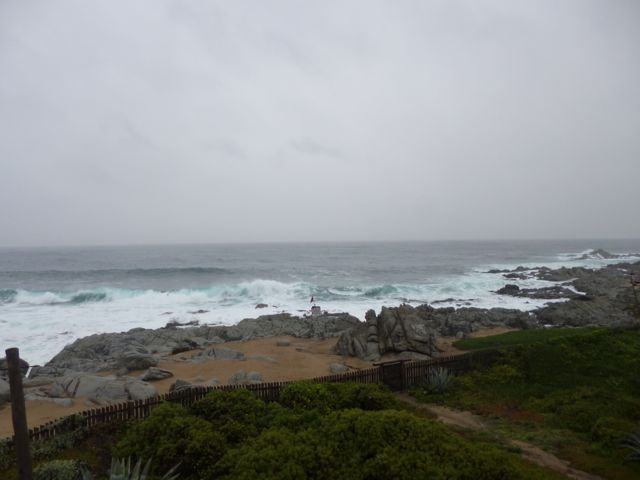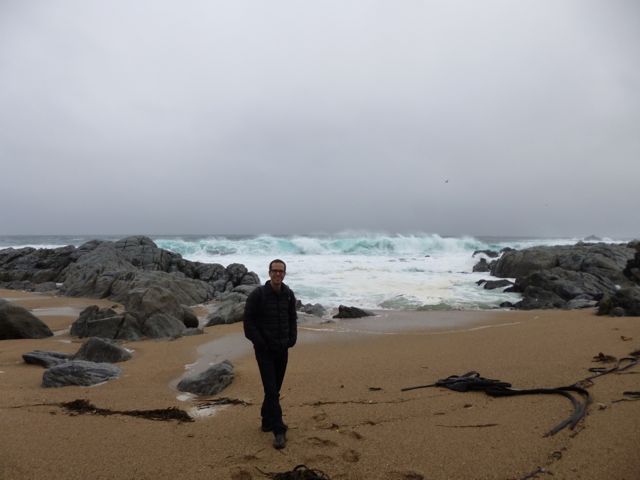 Reading about Neruda's life, and also seeing the seriousness of the student protests, made me think about the political culture here, and how different it is from ours. Neruda was heavily involved in bringing Allende to power, and ushering in the whole socialist movement in Chile in the 1960s/1970s, and he was crushed when Allende was overthrown in Pinochet's right-wing military coup in 1973. (He died a few weeks later.) And then seeing the occupied buildings in Valpo. There's a sense of volatility here that simply doesn't exist in the U.S., of these vast swings from left to right. In the U.S., our transitions of power are so incremental by comparison. Not even incremental — they're wobbles. We wobble from slightly right of center to slightly left and back again. On the one hand, I can see how the idea of change on a Chilean scale would be empowering: The whole system of power can be overthrown in a matter of days or years. It was what the student radical movement in the 1960s in the U.S. hoped (and failed) to emulated. Yet on the other hand, the specter of those huge changes must create a sense of unpredictability and anxiety. I'm not sure which is "better."
We returned to Valpo by nightfall, bought groceries and made it back to the hostal to make huge salads for ourselves (veggie starvation!) before the skies really opened up. And we watched some American TV in our room on a Chilean channel called  "Glitz." During the promo ads, the announcer kept saying: "Solo por… Gliiitz" in this really creepy and great way. I need to record it tonight for my ring tone.