Often, when we think of European vacations, we think of cities. Sipping espresso in gilt Baroque cafes. Ogling masterworks in gargantuan museums. Dutifully following Rick Steves audio tours through the old towns of Prague, Rome, Paris.
What we tend to forget, amid all this civilization, is that Europe also has some of the most stunning wilderness in the world.
Exploring it can provide a much-needed counterpoint to the pavement and crowds of the great urban centers. A chance to breathe deeply, and without competition, through landscapes that both thrill and restore.
Best of all, this natural beauty is eminently accessible — via long-distance, off-road hiking trails taking in coastline and scenery that might well be privatized in the U.S.
A couple years ago, I wrote about one multi-day hike along the north coast of Cornwall, England: breathless, ocean-splashed hiking followed by afternoons of clotted cream and scones.
And just this week, I had the chance to hike a very different three-day trail through some of the highest — and most beautiful — peaks in Central Europe: The Lechtal Alps of western Austria. They're virtually unknown to Americans or, really, anyone outside Germany and Austria.
This post will help you discover how to hike them yourself. Then, I'll provide a specific itinerary for a three-day loop hike that you can access without a car.
The Lechtal Alps: Basics
You know the perfectly jagged grey peaks that Julie Andrews twirled in front of in The Sound of Music?
Well, the Lechtal Alps are a lot like that. Except higher — and, therefore, perhaps even more twirl-inducing. Their beauty derives in part from their varied appearance: Lush forested hills contrasted with soaring limestone razorbacks.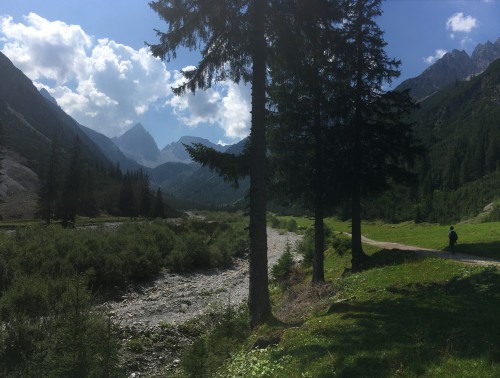 They're located just west of Innsbruck, the small city best known for hosting the Winter Olympics in both 1964 and 1976. If you choose to hike the circuit I outline in this blog post, Innsbruck will be the city you use as your base — and it's an utterly appealing spot, complete with a Baroque old town and riverfront parks set against a gorgeous Alpine backdrop.
Innsbruck is easily accessible by train or bus from both Munich and Salzburg. Check the schedules of Deutsche Bahn and Österreichische Bundesbahnen (OBB). The city also has a small airport (search Google Flights).
Trails criss-cross the entire region, and you could plan to take anything from a day hike to a week(s)-long trek. A great place to explore options is the website of the tourist agency of Tyrol. Tyrol is the Austrian state where the Lechtal Alps are located. The site has specific instructions for reaching trails, and tells you the difficulty level of each one. Red trails are intermediate trails, and should be manageable for anyone in good shape. Black trails are advanced trails — steep, narrow, rocky, and requiring some rock-climbing experience.
You really can't go wrong with any hike in the Lechtal Alps. Take any of them, short or long, and you'll be astounded by heart-stopping scenery, the kind you only need to absent-mindedly point your camera at to get incredible photos. And they're all incredible ways to restore your mind and soul after days spent pounding the pavement in the big cities.
I was looking for something pretty specific that wasn't covered there, though: A short, multi-day trek that could be reached without a car, didn't require me to backtrack long distances (i.e., was a loop trail), and would allow me to stay in some of Austria's famous hüttes — rustic mountain lodges complete with convivial fellow guests, acoustic guitar sing-alongs, and delicious fresh-baked apple strudel.
The specific hike I've outlined below accomplishes all that. It's a three-day, two-night circuit that takes you along part of the famous Adlerweg (Eagle's Way) trail. You don't need a car to reach it, and along the way, you'll stay in rustic mountain lodges complete with convivial fellow guests, acoustic guitar sing-alongs, and delicious fresh-baked apple strudel. You only need to bring enough water for a day, and little food, because the hüttes will provide both to you along the way.
Wait, What the Heck is a 'Hütte'?
Yes, it sounds like "hut," but hütte really means something more like "mountain lodge." Hüttes are essentially hostels located high up in the mountains, complete with cozy full-service restaurants that will serve you dinner, breakfast, and beer. Most offer two-person rooms, though you'll need to book those far in advance.
Hut-to-hut hiking is a very popular pastime in Germany and Austria — so much so that there's a whole organization, Deutscher Alpenverein (DAV), devoted to the practice. From what I observed, hüttes provide a chance for people to reconnect not just to nature, but to each other. Everyone sits at communal tables at dinner and breakfast, engaging in conversation not just about the outdoors but about politics and life in general.
Hüttes offer some of the very best chances you'll have to meet and talk to real-live Germans and Austrians, in a completely non-touristy setting. This social connection turned out to be one of the richest, and most unexpected, aspects of the experience.
One caveat: Despite their many niceties, hüttes are far from luxurious. Many do not have functioning showers, and you'll likely hear doors slamming and fellow hikers snoring well into the night. If you require lots of peace, quiet, and privacy, consider just doing a day hike to a hütte or two and enjoying a cozy hot cocoa before returning to your hotel.
Before You Go
Is my three-day loop hike for you? Here's a checklist to make sure you're ready before you leave.
Be In Good Physical Condition:
This is a tough trail, for people with some experience with tough trails. It builds gradually, from a short and easy first day to a very challenging third. You should be a regular hiker in excellent cardiovascular condition, with strong thighs, good balance, and some rock climbing experience.
Find a Friend:
For reasons of both safety and practicality, you should not do this hike alone.
Gather/Buy Your Equipment:
– A good, broken-in pair of hiking boots.
– A simple sleep sheet for the lodges. (Blankets will be provided by the hüttes.)
– Download an offline map application for your phone, along with the corresponding maps for western Austria. Make sure the maps are detailed enough to show hiking trails. (I used maps.me, which served me well, but OutdoorActive is also reportedly great.)
– Hiking poles are very helpful for the downhill sections, but not necessary, especially if you're willing to scoot along on your butt occasionally. 😉
– You can take care of food and water once you're in Austria.
– For light sleepers, a pair of earbuds and a white noise app can be a great way to drown out snoring and late-night door-slamming at the hüttes.
Book Your Accommodation:
– You'll need to book two non-consecutive nights in Innsbruck. The first night will be three days before the second. If you're doing this hike as part of a larger trip, it helps to book a place that will store some of your stuff for you while you hike, to lighten your load. We stayed at Nala indivudellhotel, where the very nice staff were happy to hold some of our luggage in their locked storage area.
– As far in advance as possible, book your nights at the Anhalter and Hanauer mountain lodges. The lodges both offer a few two-person rooms, so request these first. (Another good reason to travel with a friend!) You can email Anhalter Hütte, but you have to call Hanauer Hütte to reserve your space. Staff at both places speak and write limited English.
The Itinerary!
Pre-Hike Day.
Arrive in Innsbruck. Trains are most frequent from Munich and Salzburg.
After checking into your hotel, explore this wonderful city, including (but not limited to) the main drag of Maria-Theresien-Straße. The most prominent landmark is the Triumphpforte (Triumphal Arch), built in the 18th century to commemorate both a royal wedding and a royal death. In the heart of the old town, climb up the 133 steps of the Stadtturm (City Tower, €4) for sweeping views over the city and the mountains that encircle it. Cross the River Inn and stroll the riverfront park along the left bank, noting three apartment towers that finally persuaded me that 1970s Brutalist architecture can be beautiful — at least when set against stunning scenery like this.
Stock up on light hiking snacks at MPREIS, the fancy local grocery chain, which has branches on seemingly every city block. You won't need to worry about full meals, because you'll get those at the aforementioned mountain lodges. But power bars, bread, and nuts will keep you going along the way. (Tip: The location in the main train station stays open late, and stocks lots of supplies geared toward travelers and hikers, including a wide variety of nutrition bars and sandwiches.)
Make sure you have at least 1.5 liters of water. I used a bladder bag, but you could just as easily tote a bottle.
Book your travel from Innsbruck to Hahntennjoch Pass — the starting point of your hike — on the OBB website. It'll be a combo of a train from Innsbruck to Imst, followed by a bus from Imst to Hahntennjoch. Plan to leave sometime in the morning, but not crazy early, as your total hike for tomorrow is only about an hour and a half!
Day One (Innsbruck to Anhalter Hütte).
(2 hours of transit, 1.5 hours of hiking)
Leave some of your stuff behind at your hotel, and just pack along the necessities: A couple changes of clothing, toiletries, a few snacks, and water should do you.
Catch your morning train from Innsbruck to the small town of Imst (about 1 hour). From Imst, you'll catch a connecting bus (#4266) to Hahntennjoch Pass. This bus runs four times a day, and if you miss your first connection, as we did, no need to panic. Imst is a fun town to kill a few hours, full of tidy cafes, gorgeous scenery — and colorful umbrellas.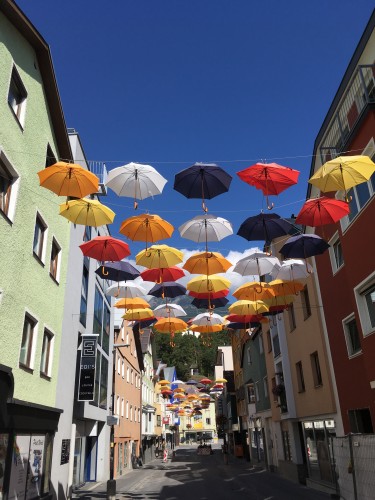 We used our layover time in Imst to hike a short loop trail (about 1 hour) through Rosengarten Canyon, which leaves right from the center of town. You'll pass pretty waterfalls and get a taste of what's ahead on your long-distance trek. Then, we enjoyed delicious coffee and pastry at Cafe Regensburger.
When you do board the bus to Hahntennjoch, tell the driver where you're going — but don't worry, it'll be hard to miss your stop. It's only about 30 minutes away, and well-marked. As you ride up into the high hills above Imst, you may begin to feel a bit humbled by the increasing beauty and grandeur of the scenery. The feeling, not to be crass, is that "OK, sh*t is definitely starting to get real."
Getting off the bus at Hahntennjoch is a real thrill. Surrounded by rocky peaks, silence, and cheerful yellow trail markers, I felt I was starting something truly epic — yet also comfortingly well-organized.

The hike from here to Anhalter Hütte is only about 1.5 hours, but it's tough enough — pretty much uphill the whole time. You won't mind, though, because the scenery all around you will make you feel like you're starring in your own fantasy quest movie on your way to find the secret ring/dragon/portal to another world.
And "portal to another world" is not a bad way to describe Anhalter Hütte. When it comes into view, you'll hardly believe that just a couple hours ago, you were on anything as quotidian as a bus.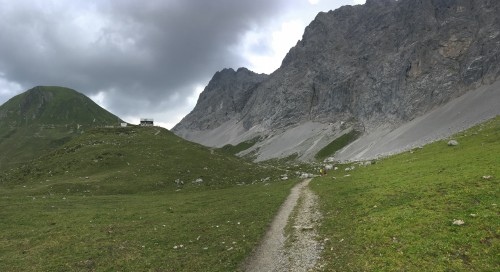 We checked in to our two-person room. Cozy! And with electricity to charge our devices!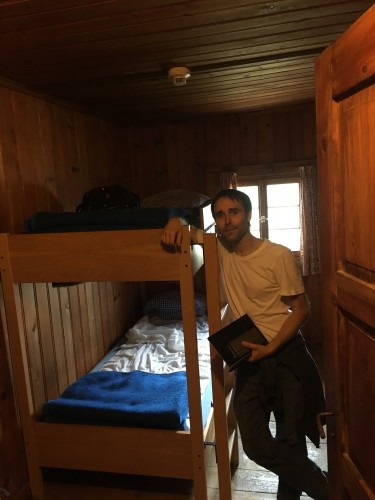 Then, as a rainstorm brewed outside, we tucked into a booth in the super-cozy common guest area, journaling, looking at maps, and hanging out with a friendly German guy named Christoph. He runs a company that leads tours of historic battlefields throughout Europe, mostly for British school kids.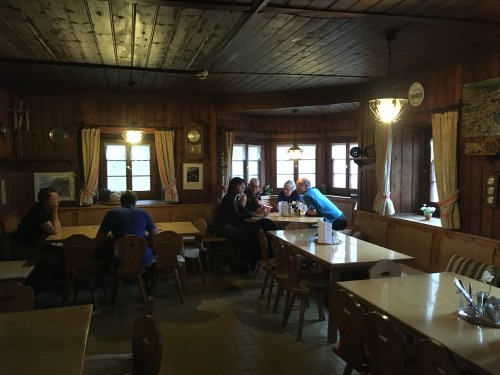 For dinner, you could order either heavy Austrian sausages and spaetzle, or simple pasta with red sauce. We went for the latter.
That night, we were both pretty exhausted and went to bed early. But downstairs, we could hear the sounds of hikers singing folk songs in German, with acoustic guitar accompaniment.
The music ended at a very respectful 10 p.m., at which point the guy next door started sawing logs. I donned my earbuds and fired up my white noise app, which turned out to be a very effective way of drowning out the random night noises of the hütte and lulled me right to sleep.
Day Two (Anhalter Hütte to Hanauer Hütte).
(5-6 hours of hiking)
This day is fairly long but easy until the last hour. You'll wake up in the morning to eat your breakfast (either muesli or bread and jam) at Anhalter, then hit the trail, which goes almost entirely downhill for the first couple hours.
That's when the pretty town of Boden comes into view, its main church scrubbed white and clean. Walk at a leisurely pace and plan to get here around lunchtime, so that you can eat at Gasthof Bergheimat, which opens at 11:30a.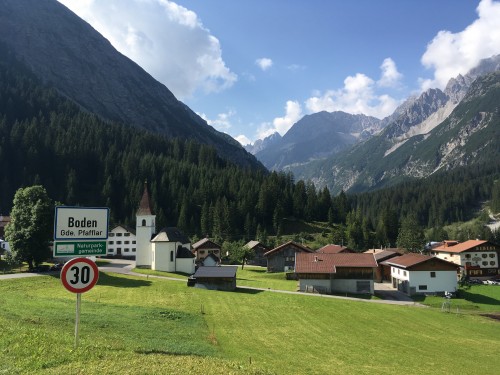 From Boden, it's another 2.5 hours or so to Hanauer Hütte. At first, the trail is wide, rocky, and flat — more of a road than a hiking path. The views are fairy-tale quality.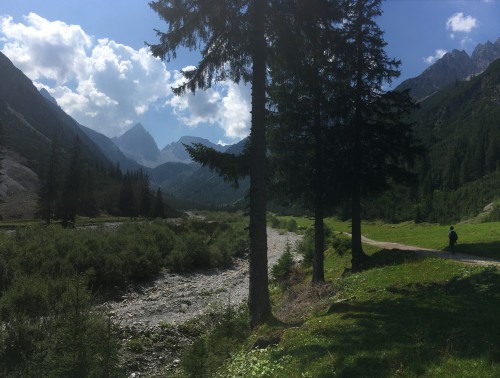 You'll pass the supply lift that goes up to Hanauer (sorry, no rides for people!). That's when the path begins to narrow and ascend, as well — fairly steeply. Just go at your own pace and follow the red blazes marking the trail. Think of this as a preview of the challenges in store for you tomorrow. Yes, you can also see the hut as you climb, perched at the top of a cliff that looks a lot further distant than it really is.
Hanauer Hütte, once you reach it, embraces you with its warm, pine-wood walls and glassy common room. A razorback mountain ridge frames the building.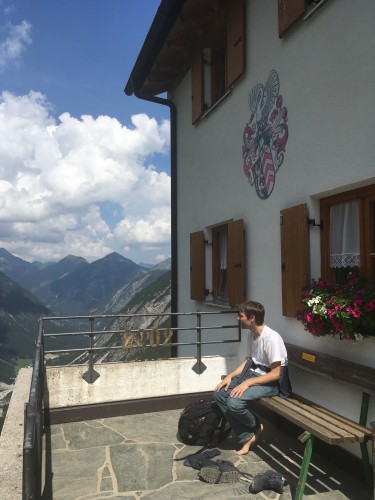 The comfort level here is higher than at Anhalter, due to the fact that Hanauer has been more recently renovated. Once you check in and maybe splash some clean water on your face, tuck into a table in the common room and enjoy a cup of hot cocoa, beer, or wine.
Dinner here was wonderful: Plump spinach-cheese tortellini, a pickled salad, and — best of all — a big slice of apple strudel for dessert.
I slept soundly again using my ear-buds-and-white-noise method.
Day Three (Hanauer Hütte to Innsbruck).
(7 hours of hiking, 2.5 hours of transit)
This is your big day, but the good news is you've already got your trail legs beneath you from the previous two days of hiking!
Seriously, though, this day will likely be a challenge even for experienced hikers. It's also the one where some previous rock climbing experience proves helpful — probably more in calming the nerves than anything else.
Now, I had reached out to several Austrian and German hiking bloggers before we arrived to ask about how challenging this trail would be. All of them told me it would be "strong" and "rocky," but that we wouldn't need any special climbing equipment and "should be fine" as long as we were in good shape.
Things start tamely enough. You wake up at Hanauer, eat your simple buffet breakfast, then follow the (always excellent) trail markers toward Muttekopfhütte. You'll notice that this trail is designated a black trail, rather than red — indicating it's advanced rather than intermediate. You're about to find out why.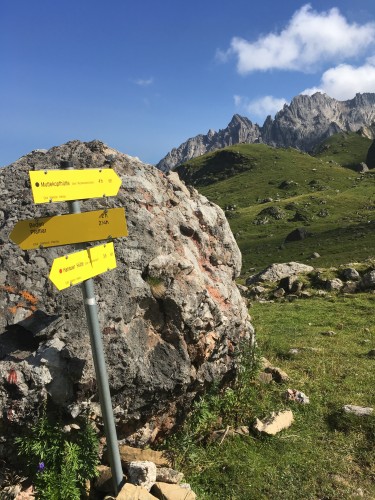 The first part of the trail is a fairly steep but totally manageable hour-long ascent of the hill behind the hütte. From here, you go downhill, to a pastoral valley filled with cows and sheep (and lots of their poop).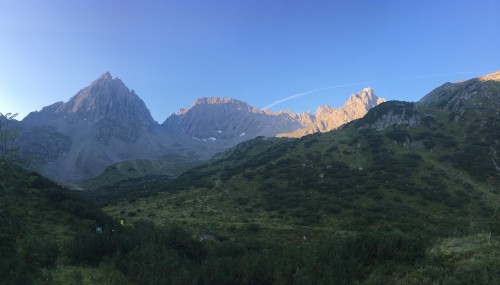 It's right after this section that stuff gets real. You essentially begin an ascent of Muttekopf, the 9,100-foot peak that lies between you and the town of Imst.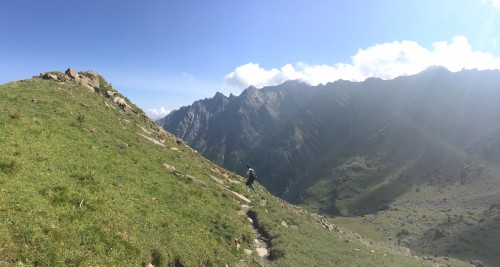 The "trail," such as it is, becomes a series of red blazes marked on large boulders. These are the boulders you'll be picking your way up, across, and eventually down.
Sometimes, you'll have the benefit of fixed chains to help with your balance. Other times, you just need to be verrrry careful about where you place your feet, and which rocks you choose to hold onto for extra support.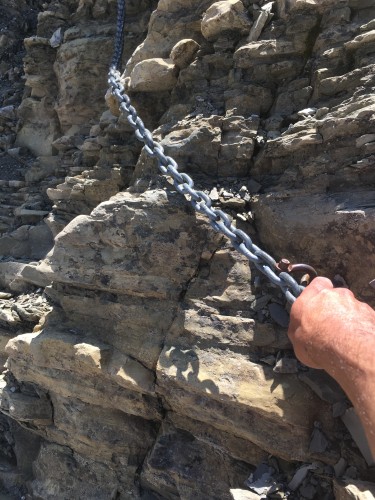 It was scary at first for a couple of Ohio boys, but after a while I fell into a sort of meditative groove. "This is apparently my life right now, and I've got to breathe and face it," my inner voice seemed to be saying. I ended up enjoying the way the intricacy of trail forced my mind to focus exclusively on the task at hand.
Once you reach the near-summit of Muttekopf, you may feel (like I did) an enormous sense of accomplishment and exhilaration. "We survived!" Then, of course, it's all downhill — precipitously, at first. My friend and I did a fair amount of butt-scooting as much more confident Austrians and Germans whizzed past us, standing upright with their hiking poles.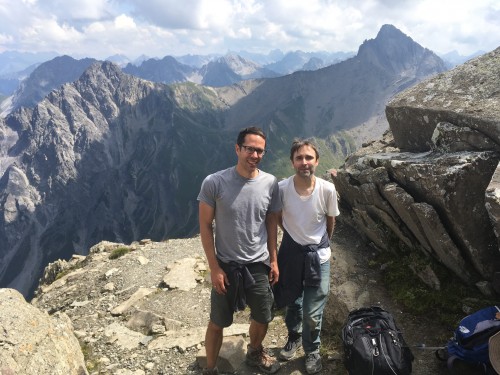 The final part of the trail is a gentle descent through pastureland to Muttekopfhütte. If you have an extra day, you could spend the night here before descending to Imst and then Innsbruck.
We didn't have the luxury of time, though, so we pushed on.
In either case, from Muttekopfhütte you follow the trail to the Bergbahnen Lift — about a 30-45 minute hike straight uphill, but with a series of staircases and chains to help you along.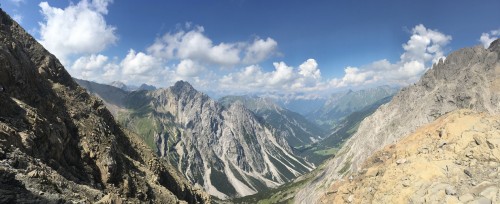 Bergbahnen is a chairlift that will carry you about 2.5 miles downhill to the upper part of Imst. You board at the summit station, then disembark about halfway down the mountain. Here, you can choose either to take a second chairlift down the rest of the way, or ride the Alpine Coaster — a kind of gentle, analog roller coaster with self-controlled brakes. We chose the chairlift because there was a long line for the Coaster. The total cost for the entire chairlift ride down was €8.20. (Both the Coaster and the chairlift stop running at 5 p.m. in the summer, so make sure you reach the summit station before then.)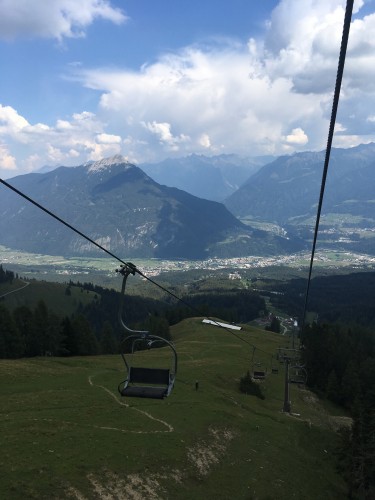 The chairlift drops you off at Hoch-Imst, a kind of recreational satellite town above Imst. To get from here to the main town, you can wait for a city bus; hitch a ride; or, if you have the energy, follow a 30-minute footpath. We chose the last option, and ended up catching a train that got us back to Innsbruck by 6 p.m.
Once you do get back to Innsbruck, check back into your hotel to reunite with your extra belongings. Then, enjoy a nice leisurely dinner and congratulate yourself on a long day of tough hiking that would make anyone feel accomplished!