This year, for the first time, the Austin Film Festival had an awards category honoring writers of fiction podcasts, aka audio dramas. (In this post, I'll be using "fiction podcast" and "audio drama" interchangeably, though I recognize there can be differences.)
I was fortunate to be named a competition finalist, for the pilot episode of my second fiction podcast series. (My first series, Munchen, Minnesota, is a horror-comedy about a town discovering it has an underground population of bloodthirsty gnomes. Check it out!)
The best part of all, though, is that AFF has always been a writers' festival. Along with showing films and handing out awards, it offers a weekend-long Writers' Conference, chock full of panels and discussions about the craft of writing.
This year's conference schedule included a slate of sessions about fiction podcasting. Many of my audio drama heroes were present, nerding out about their craft: Skip Bronkie and Zack Akers of Limetown; Lauren Shippen of The Bright Sessions; Mac Rogers of Steal the Stars; KC Wayland of We're Alive. Business-side folk from Authentic (a podcast advertising company), Audible, and Tor Labs also offered words of wisdom.
Not only did I get to hear from, and meet, all of those folks, but I hung out with dozens of other podcasters, including fellow finalists Philip Thorne and Oystein Brager of The Amelia Project; Jenny Elder Moke; and Kat Sandler of How to Build a Fire (the winner!). Within the space of a weekend, I'd developed a real, live, flesh-and-blood network of fiction podcast colleagues. Hooray!
I came away hugely inspired, and I'd heartily recommend the conference to any and all fiction podcasters, even if you don't enter the contest.
Below are some specifics about how two successful shows — Limetown and The Bright Sessions — were developed and found their audiences. They're excellent case studies, because they sit at opposite ends of the spectrum in terms of their approach to production and marketing, and show the very diverse ways that a fiction podcast can be successful. The producers of Limetown took a very Hollywood approach, complete with contracts and SAG accreditation. The producer of The Bright Sessions started out in her bedroom, working with unpaid friends. And she still records there, scads of downloads later!
These tips are mostly about podcast production and marketing. If you want to learn more about how to write a fiction podcast, check out KC Wayland's brand new e-book Bombs Always Beep. His A#1 tip? Don't confuse listeners. That's the kiss of death for a fiction podcast.
Now, on to those notes.
(Both Skip Bronkie and Lauren Shippen were nice enough to review these notes for me and provide corrections and additions, so they're as accurate as possible.)
Limetown
Zack Akers and Skip Bronkie
Limetown, about a town that mysteriously disappears, is one of fiction podcasting's great success stories, becoming iTunes' #1 podcast and gaining thousands of devoted listeners. The series just announced a second season coming in 2018. A related book and television show are in development.
Co-creators Zack Akers and Skip Bronkie — two of the nicest, most approachable guys I've met — come from a professional screenwriting and film production background, and their process reflects that. They developed the show much as if it were for TV, with an actual budget, actors' contracts, and a recording studio.
Conception & Writing
– To get started, they set up a mini "writers' room" on Google Docs. They ended up with about 60 pages of notes and ideas before they even started outlining and writing.
– Zack wrote a tight outline for the pilot, then moved into scripting.
– Their plan, at first, was to write and produce only the pilot, then pitch it to existing podcast platforms.
Money & Finance
– They had a budget of $5,000 for the pilot. (While they didn't explicitly say so, I gathered this came out of their own savings.)
– Nearly all of this went to paying talent: actors, a sound designer, and a composer.
– They set up an LLC, Two Up Productions, to outline their partnership, pay talent, and handle legalities.
– In addition to paying talent up front in cash, they gave away a portion of future net profits, derivative rights (book deals and intellectual property rights), and deferred fees (payment when and if the show became profitable). In the end, they gave away a significant percentage of derivative rights to the cast and crew — a decision they do not regret because it helped them engage top talent.
Legal
– They drew up contracts for everyone, using a lawyer who gave them different templates for mixers, editors, actors, etc.
– Their composer retains rights to all his music, which allowed them to negotiate a "friendlier" fee.
– They wanted to be Screen Actors' Guild (SAG) accredited, using all SAG actors. Since SAG was new to podcasting at the time, it took two months to receive accreditation.
Pilot Production & Post-Production
– They recorded the pilot in two 4-hour sessions at a recording studio. Actors were recorded in isolation booths, to allow for cleaner sound design, but could see each other through glass.
– Editing took two 12-hour days. On the first day, the editor (sometimes Zack and Skip, sometimes a partner) picked dialogue takes. On the second day, all pacing was set.
– The rough cut was delivered to their composer, who spent two or three days composing cues and theme music.
– Finally it was handed back to the sound designer, who spent one full week adding sound effects, mixing, and mastering.
– Total time for production and post-production on each episode was two weeks.
Initial Launch
– They couldn't get any distributor interest in the pilot, so they decided to self-distribute.They launched with only the pilot, a written draft of Episode 2, and outlines of the remainder of the season. (Whoa, this goes way against popular wisdom that you need multiple episodds to launch!)
– They wrote a press release and sent it to 24 print and online reporters who covered podcasting and entertainment. (Skip had some contacts from his time working for Facebook and Pinterest.)
– Many reporters decided to write about the show. Part of this may have been due to great timing: back in 2015, fiction podcasting was novel and Serial had also just broken big.
– The lesson for up-and-coming podcasters when pitching to reporters: Figure out an "angle" that makes your show new, different, and exciting.
– Traditional media and bloggers were the key to breaking Limetown. Social media were also important, but were not a focus in their marketing efforts.
– Their biggest break was being featured by Joanna Goddard's "tastemaking" blog A Cup of Jo. (Later, when they released their podcast musical 36 Questions, their big media break came from The Daily Skimm, a daily roundup of cool things around the Internet.)
– They did not have ads in their first season.
Subsequent Production & Post-Production
– Following launch, they stuck to a release schedule of one episode every three weeks. To achieve this, they eventually brought in additional writers.
– The two-week production schedule pretty much stuck throughout the series: Two 4-hour recording days; two 12-hour editing days; three music composition days; one week for sound design.
Advice
– Professionalism is key. Treat podcasting as you would any real job.
– As the format becomes more mainstream, Skip & Zack recommend outlining the season, drafting a few scripts, producing a pilot, and then pitching distributors. A growing number of distributors are looking for fiction content: Gimlet, Midroll, Audioboom, Audible, Wondery.
– If no distributors step up, self-distribute.
The Bright Sessions
Lauren Shippen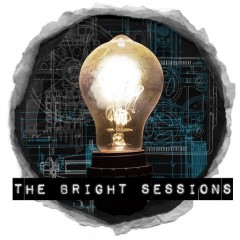 Lauren Shippen's wonderfully intelligent and emotional series The Bright Sessions sits at pretty much the opposite end of the spectrum from Limetown in terms of its initial conception, budget, and means of reaching an audience. What was the same, however, was Lauren's commitment to quality writing followed up by dedicated marketing. The show, about patients with supernatural or sensitive abilities in therapy, is now in its fourth season, and is currently in development for television. Lauren herself is just as friendly and easy to talk to as Zack and Skip, and they are sincere fans of each other's work.
Conception & Writing
– Lauren, an actress and writer, had been kicking around the concept for a while when she decided to start writing episodes as vehicles for herself and her actor friends.
Money
– She had zero budget. Everyone initially worked for free, without contracts.
– Between the show's first and second seasons (February 2016), when she still only had about 2,000 listeners per episode, she launched a Patreon account.
– A few months later, the podcast advertising firm Authentic reached out about advertising placements. Ads started in the show's third season.
– She now has 14 paid employees: 12 actors, a sound designer, and a composer.
– She does not support herself entirely on the podcast, since she invests most of what she makes back into the show.
Production & Post-Production

– She recorded the first season entirely on her own, without a sound designer, in her bedroom.
– The show is still almost entirely recorded in her bedroom, though several recent episodes were recorded in a studio.
– Lauren initially acted as her own sound designer, teaching herself to do her own editing and sound effects work.
Distribution and Publicity
– Social media was key. It was also important to become part of communities rather than just "virtually handing out business cards," self-promoting her show. She tried to understand how each community functions.
– She found submarkets of people who were already listening to fiction podcasts, e.g. podcast and audio drama subreddits and meetup groups. Later, she started attending ComiCons and, as the show became popular, speaking on panels.
– She spends about 15-40% of her time creating content, the rest on promotion.
Advice
– When launching, reach out to Apple Podcasts through their "Concerns" category. Pitch your podcast to be featured in New & Noteworthy. (Must reach out within 6-8 weeks of launch, and have 2-3 episodes posted.)
– Post episodes everywhere, not just iTunes because not everyone has iTunes: Spoke, RadioPublic, Spreaker, Stitcher, Google Play.
Hope that's helpful! As always, I love to hear feedback from readers. Feel free to leave comments or ask questions.