Considering its size, Mojave National Preserve, in far-eastern California, doesn't get much attention.
At 1.6 million acres, it's the third-largest unit of the National Park Service in the continguous United States — but only gets about half a million visitors a year.
Compare that to nearby Grand Canyon National Park, which at "only" 1.2 million acres gets nearly 6 million annual visitors. Or Death Valley National Park, also in the Mojave Desert, which gets about 2 million.
Is it the fact that Mojave is a Preserve rather than a Park, and therefore a kind of second-class citizen in the eyes of tourists?
Whatever the reason, the Preserve's low profile is if anything more incentive to visit. We visited this past March, almost as an afterthought to a trip centered around Death Valley, and it ended up being the high point of our experience — an enchanting place of Joshua tree "forests," sandy-red mountain scenery and true solitude.
For me, its nearly-empty trails and roads offered a welcome counterpoint to Death Valley, which while stunning in its own right seemed to cram visitors into a concentrated "ring road" of spectacles, without many obvious opportunities to get into nature and explore.
Here's a little more about what we saw, and how you can, too!
First, what the heck is a National Preserve?
It's basically a national park that you can do capitalist-type stuff in — such as mining and oil and gas exploration. In Mojave, the main sign of this type of activity is a freight railroad that runs past the main visitor center at Kelso Station, though the trains are mostly just passing through, transporting material produced outside the preserve.
Tell me a little about the Mojave Desert.
It's the smallest of the three major "hot" desert systems in North America. (The other two are the Chihuahan and the Sonoran.) It's also the driest, receiving less than 13 inches of rain per year. The topography is one of extremes, containing both mountain peaks that soar above 10,000 feet and also the lowest point in the U.S. — the famous, salty flats of Badwater Basin, in Death Valley National Park.
How do I get there?
For a place so pristine and empty, Mojave is super easy to reach. It's about an hour's drive (and cultural light years away) from Las Vegas International Airport. Two major interstate highways, I-40 and I-15, sandwich the park on the north and south.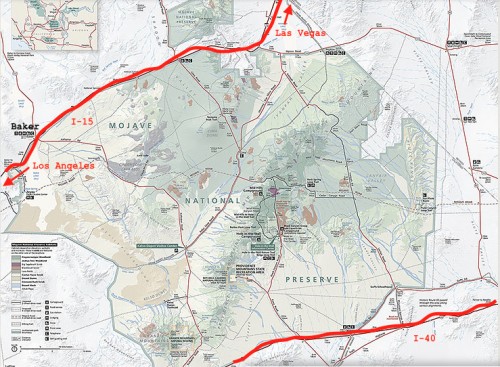 What are the wildlife highlights?
We gotta start with the desert tortoise — one of which we nearly ran over in my rental car! In my defense, they aren't all that easy to spot in the wild, in part because they have a brown-mottled shell that perfectly matches their dusty surroundings. This threatened species lives only in the Mojave and Sonoran deserts. They cope with the heat by not moving much, and by hiding out in deep underground burrows.
Nearly as thrilling, and much more visible, is the Joshua tree — not a tree at all, but actually an overgrown yucca. Native only to the Mojave Desert, they look like the desert flora version of a high school cheerleader — craggy arms reaching out to brandish green, spiky pom-poms. They're most famously seen in Joshua Tree National Park, but equally large and impressive specimens grow in Mojave National Preserve, some as tall as urban street trees. The best places to see them are along Morning Star Mine Road and Cima Road, in the park's northern half.
Where should I hike?
We took two long-ish hikes, both spectacular but for very different reasons, and both easily accessible from the main roads.
Mid-Hills/Rings Loop Trail. Total about 6 miles.
We started this ranger-recommended hybrid of two trails off Wild Horse Canyon Road, not far from Hole-in-the-Wall Information Center.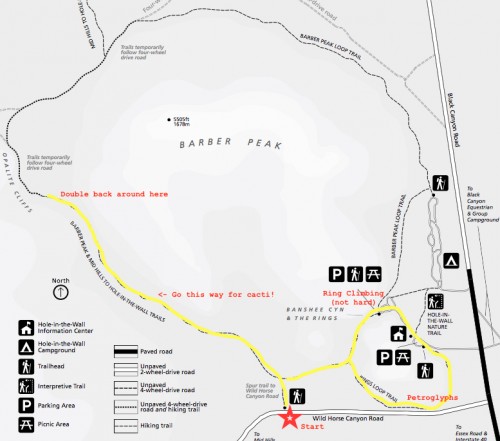 It begins with a 1/4-mile spur trail that connects to the Barber Peak and Mid-Hills Trail. Turn left onto this trail and hike uphill for a mile or two to pass through a stunningly spiny landscape showcasing at least eight different types of cacti.
They include teddybear cholla, barrel, and several varieties of my favorite, the prickly pear — all complemented by occasional, flaming red patches of desert paintbrush. Just after cresting the hill, you come to a metal gate, from where you get views of the steep, stark white Opalite Cliffs, looking like the backdrop for a fantasy movie.
Double back and connect with the Rings Loop Trail, which leads you into a porous-walled canyon — the so-called Hole-in-the-Wall area that allegedly provided hiding places for 19th century outlaws.
Gymnasium-style metal rings help you climb through tight crevasses. (It's not as bad-ass or difficult as it looks. Just a little bad-ass.)
You'll also pass Native American petroglyphs, showing a ram and other animals. They're remarkably well-preserved given how close they are to the trail.
Teutonia Peak Trail. Total 3-4 miles.
This trail is all about views and Joshua trees. It's best to do it toward the beginning or end of the day, when the indirect sunlight casts dramatic shadows over the surrounding landscape.
The trailhead is on Cima Road, not far from the northern border and Interstate 15. You start out by passing through a flat expanse of huge Joshua trees. An silver mine once operated here, evidenced by fenced pits just off the trail.
Just as you start to get bored with this beautiful but rather monotonous landscape, you start a 700-foot ascent to Teutonia Peak. Again, it's a lot easier than it looks. And if you don't feel like going all the way up, you can stop well short of the peak and still get heart-stopping views.
Despite the relative proximity of an interstate freeway, all is silent up here. It's the West as we like to imagine it: Empty, red and brown, still — an invitation to something spiritual and enormous but also somehow comforting.
Where to stay and eat?
There's not much in the way of accommodation right around the park. We stayed in a cute tiny house on Sandy Valley Ranch, for about $100 a night. The (circuitous) drive to Mojave National Preserve was about an hour; to Death Valley was about 2 1/2 hours. The house's best feature was roof deck for watching the stars — or at least half the stars, the ones not obliterated by the radioactive glow from Las Vegas on the eastern horizon!
My boyfriend had been to these parts before, and had fond memories of The Mad Greek restaurant. It has two locations, both flanking the Preserve: the original location in Baker, Calif. and a newer outpost in Primm, Nev. To be honest, the food is just OK, but it's still pretty great to have access to ethnic food in the middle of the desert.
Goodsprings, a tiny former mining town near the ranch, is home to the Pioneer Saloon, a super friendly place that serves three meals a day and hosts live music on weekends. We didn't even eat there, but a waiter was nice enough to show us around anyway — and pointed out the nearby mountain where movie star Carole Lombard's airplane crashed in 1942, killing her and all 18 others onboard.
Last word?
Mojave National Preserve is a fantastic destination in itself — a way to experience North America's smallest desert in all its silent glory.