I attended the opening session of the CEOs for Cities Connected City conference this morning. The conference is being held in my hometown of Cleveland, at the new Ernst & Young tower and Aloft hotel. The shimmering waters of Lake Erie beyond a window full of mayflies provided the dramatic backdrop.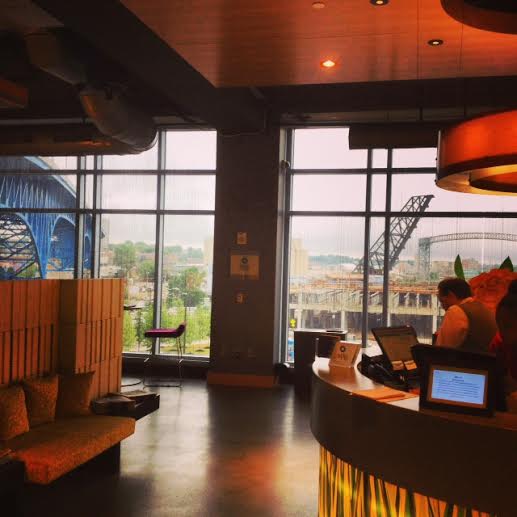 The most exciting part of the session, apart from unveiling Cleveland: A Connected City Field Guide, my new book for CEOs, was a talk and panel by the mayors of Nashville, Dayton and Greenville, S.C. I was especially impressed with Karl Dean, the mayor of Nashville. He opened his talk by saying how proud he was of his city's recent passage of a same-sex partner benefits law — a rarity in the conservative South — before giving air time to more-open immigration laws and urban walkability.
Then the amazing Ned Hill, dean of the Levin College of Urban Affairs and one of my mentors, piped up with a question: "How do you promote economic development across a region, rather than within particular municipalities?"
I'm sure Dr. Hill was thinking of Greater Cleveland, which has no fewer than 59 municipalities in Cuyahoga County alone, along with a growing outer ring of suburbs in surrounding counties. These communities are notorious for competing with each other for business, even when the result is a zero-sum game (a company moving from one suburb to another, for example).
Mayor Dean thought for a moment, then came up with the Middle Tennessee Mayors' Caucus. This is a roundtable of mayors from throughout Metropolitan Nashville who meet periodically to discuss regional economic development strategies. It was inspired by a similar body in Denver.
Interestingly, the Nashville-area Caucus formed at the same time as — and functions as part of — the Transit Alliance of Middle Tennessee, which promotes new private- and public-sector investment in mass transit in the 10-county region of Middle Tennessee. In other words, the leaders of Greater Nashville view stronger transit as the key component of bolstering the region's economy. Mayor Dean even took a trip to Japan in part to study the country's approach to mass transit.
(Dayton Mayor Nan Whaley, an energetic 38-year-old elected in November 2013, said her region also has a mayors' caucus, but I couldn't find any info online. Anyone?)
It'd be great if Cleveland had a regional decision-making body like this. The closest we come is probably NOACA, which sets regional transportation policy that has traditionally favored highways over transit. (It was the agency that in 2007 approved a new highway interchange in Lorain County to support a new development headed by the Cleveland Clinic and Dick Jacobs, for example.) NOACA's new director, Grace Gallucci, is leading the organization in progressive new directions, but anyone would have a tough job changing the culture of in-fighting and politics that have characterized the agency. It sets quotas for how many mayors or elected officials can come from each county, for example.
Mayor Whaley was right to point out that a booming region such as Nashville faces much different issues than cities in Ohio, most of which are slow-growth or declining. In Ohio, she said, there's more of a scarcity mindset, with suburbs and cities squabbling over what they see as a declining pool of resources.
But this brings me back to Dr. Hill. He's long pointed out that even hard-hit regions must do far more than simply manage decline — they must assume future success. Essentially, it's "fake it til you make it" on the scale of a metropolitan region.
An independent mayors' caucus for Northeast Ohio could be a definitive step in the right direction.