Santiago may not enjoy the fame of other South American destinations such as Buenos Aires or Rio, but the city deserves at least few days' exploration as part of a larger Chilean or South American itinerary. There's plenty to see, do and — maybe most importantly — eat, and the city's setting against the jagged and snow-peaked Andes will have you dropping your jaw in wonder (if the smog isn't too thick to block the views).
In planning my own trip here, I found useful and in-depth information about the city surprisingly hard to come by — perhaps a reflection of Santiago's relatively recent arrival in the international consciousness. This guide seeks to fill in some of the gaps, pointing the way to a productive, fun and budget-conscious few days in Chile's capital for both tourists and the growing number of business travelers drawn by the city's prospering economy.
Money
Chile uses Chilean pesos (CH$), which at the time of this writing were exchanging at a rate of about CH$500 per US$1. A quick trick is to double any price you see in Chilean pesos and then take away the three ending zeroes. That's the rough price in dollars. (Example: C$10,000 x 2 = 20,000, minus the zeros = US$20.)
As far as food and entertainment prices go, Chile's about on par with U.S., but lodging can be noticeably less expensive than in the States. For example, my partner and I rented a (small) one-bedroom apartment in Lastarria, one of Santiago's most desirable center-city neighborhoods, for about US$60 per night through Airbnb.com. Ibis Estacion Central, a modest business hotel near the central train station, where I stayed one night for convenience, cost about the same (but don't stay in this neighborhood for a prolonged period if you can help it — see below in "Where to Stay").
Arriving
Chances are you'll arrive by air, at Santiago's tidy and modern airport to the northwest of the city. It's one of the most efficiently-run airports I've ever used, with speedy check-in, security and customs lines. Be aware that U.S. citizens are saddled with a $160 "reciprocity fee" upon entry (fees for other countries varies) — a fine how-do-you-do for a welcome, right? You'll pay this immediately upon leaving your plane, before entering customs, at a clearly marked checkpoint.
The subway doesn't run out to the airport, so your three top options are:
1. Taking a private taxi (30-45 minutes, about $30 to the center);
2. Hopping on a shared bus run by one of several private companies (45 minutes, about $10 per person);
3. Catching a Pullman or Turbus to Terminal Alameda (45 minutes, $3 per person).
You can find all of these options in the pull-up area right outside baggage claim.
Where to Stay
For urban-minded business and leisure travelers, the most interesting and safest neighborhoods to stay in are these:
Barrio Lastarria – Within a 10-minute walk of Plaza de Armas and the central markets, but with a bit more neighborhood character. Many interesting cafes, a couple of art galleries and museums, and two of the city's loveliest public spaces: the leafy and unassuming Parque Forestal and Cerro Santa Lucia (see below in "Things to Do").
Barrio Bellavista – This is the nightlife neighborhood, practically silent during the day but jumping at night. Also offers easy access to Parque Forestal and the central markets, and to Cerro San Cristobal.
Barrio Italia – A more boho version of Lastarria, centered around Avenida Italia and the somewhat frumpy Parque Bustamante. It offers a number of shops and cafes carved out of colonial courtyard houses, in a leafy and relaxed setting that feels far removed from the bustle of Lastarria, Bellavista and the Plaza de Armas. The trade-off is that it's also less convenient and more "off the beaten path," meaning you should probably consider staying here only for longer visits.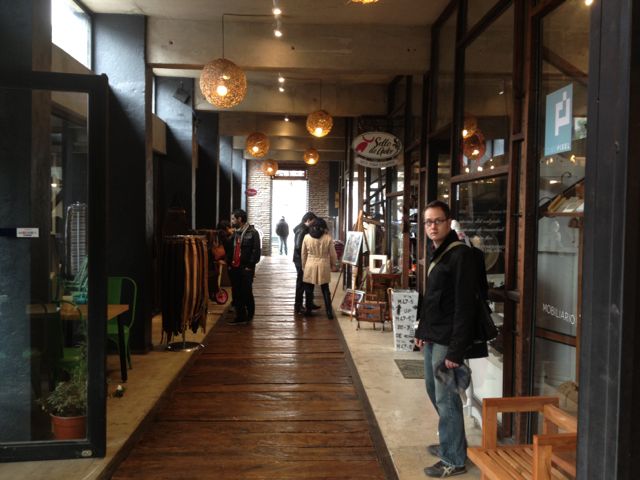 Hip shopping in Barrio Italia.
Central Santiago – The very center of the city, in the blocks around Plaza de Armas, offers dozens of hotels but not much in the way of character. Still, it would make for a fine base for a short visit.
Avoid staying in the area around Estacion Central — unless you're only going to be in Santiago for a night and have an early morning flight to catch, in which case it could be quite practical. That's because you can catch buses to and from the airport at Terminal Alameda, near the Estacion Central, for a fare of $3 each way. Otherwise, this is a dreary and crowded area that will make you hate your life.
Neighborhoods like Vitacura and Las Condes are more modern, affluent and suburban, if that's your taste. I didn't get to see them except from atop the cerros, and I don't know much about them other than that they have large malls.
Getting Around
The Santiago subway system is efficient, clean and well-signed. You'll recognize stations on the street by their stylized red-diamond signs. The red, green and yellow lines run to most of the places you'll want to go.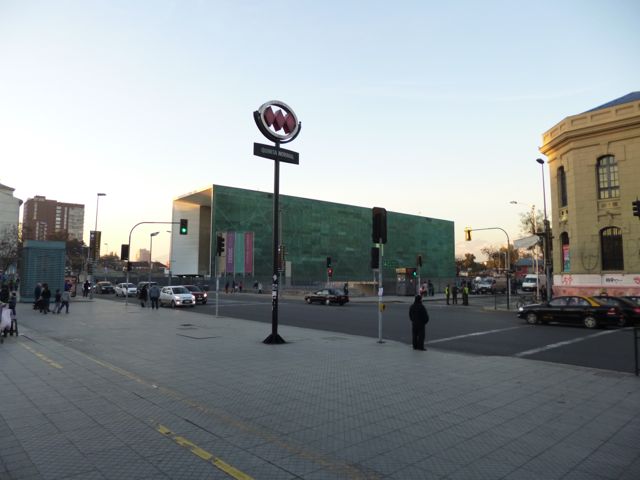 The Quinta Normal metro station, marked by a stylized red diamond sign.
The most confusing part about using the subway is paying your fare. You have two options: You can buy per-ride tickets, or you can buy a BIP card (BIP tarjeta) for something like CH$1300 (US$2.60), which you can then load and recharge like metrocards you've probably used in the States or Europe. Either way, you have to go to a ticket window in the station to make your purchase. This can be a nerve-wracking experience if you don't speak much Spanish, but you'll figure it out.
If you plan on using the subway more than once, you should buy the BIP card, because you can reload it with minimal fuss at yellow BIP machines after you've bought it. Rides cost around CH$610 (US$1.20), no matter where you're going, but are slightly more expensive at rush hour. You can also use BIP cards on buses, though the metro should serve most of your needs.
Santiaguinos: A Day in the Life
Even if you're only here for a few days, it's helpful to know the rough schedule of full-time residents (Santiaguinos), because you'll be building your days around them.
The most important differences between the Chilean and American schedule are that:
Santiaguinos eat their main meal as a late lunch (almuerzo), around 2 or 3 in the afternoon. Dinner is a light snack — often a sandwich or salad. Thus, you'll notice that restaurants are busier, and their menus fuller, at lunch than at dinner.
Chilean nightlife skews reeeeaally late. At most clubs and bars, you won't see any signs of life at all until midnight or 1 a.m., and the party goes on until 5 a.m. (The 5 a.m. part is hearsay, by the way: I'm well past the point of wanting to stay up that late myself. But I can personally attest to the deadness of bars before midnight.)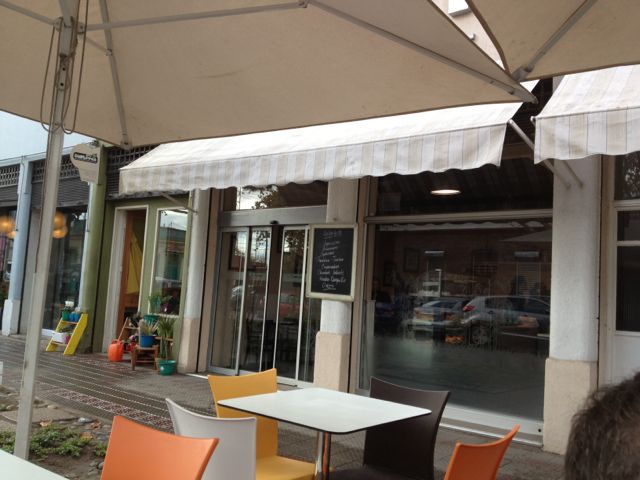 A cafe on Avenida Italia.
Interpersonal Interactions
I found Santiaguinos, and Chileans in general, to be reserved and even a bit standoffish. It's not that they're unfriendly — though some are. They're just busy living their lives. If you ask for directions, or for advice, they'll help, but don't expect small talk or much American-style smiling.
Language
Let's just say Chileans talk fast. Really fast. On top of that, there are some idiosyncrasies of pronunciation and dialect (e.g., many dropped s's) that may make it hard for you to understand people even if you have decent Spanish.
Being able to speak some Spanish is quite helpful, not only because it's a sign of respect but because English still isn't spoken widely here. I did see some American tourists using the "if I just talk louder in English, they'll understand" method of communicating — and, with enough pointing and gesturing, this worked. But you'll definitely get what you want faster — and maybe earn a few Brownie points to boot — if you attempt Spanish phrases and words. In fact, people commented several times that they were pleasantly surprised to find folk from the United States even trying to speak Spanish. There are plenty of free smartphone apps that can give you basic phrases and vocabulary; I used SpanishDict, which also includes audio pronunciations.
Safety
Santiago feels rougher around the edges than most large North American or European cities. There's a ton of graffiti, much of it angry and anarchistic. Streets outside the center can be dirty, and sidewalks broken.
But in terms of your personal safety, you shouldn't have a problem if you stay alert, especially in the neighborhoods listed above, and especially during the day. Other areas, including those around Estacion Central and the Mercado Central, are known for pickpocketing and the occasional mugging, so be alert and keep your wallet in a safe location in those places even during daylight.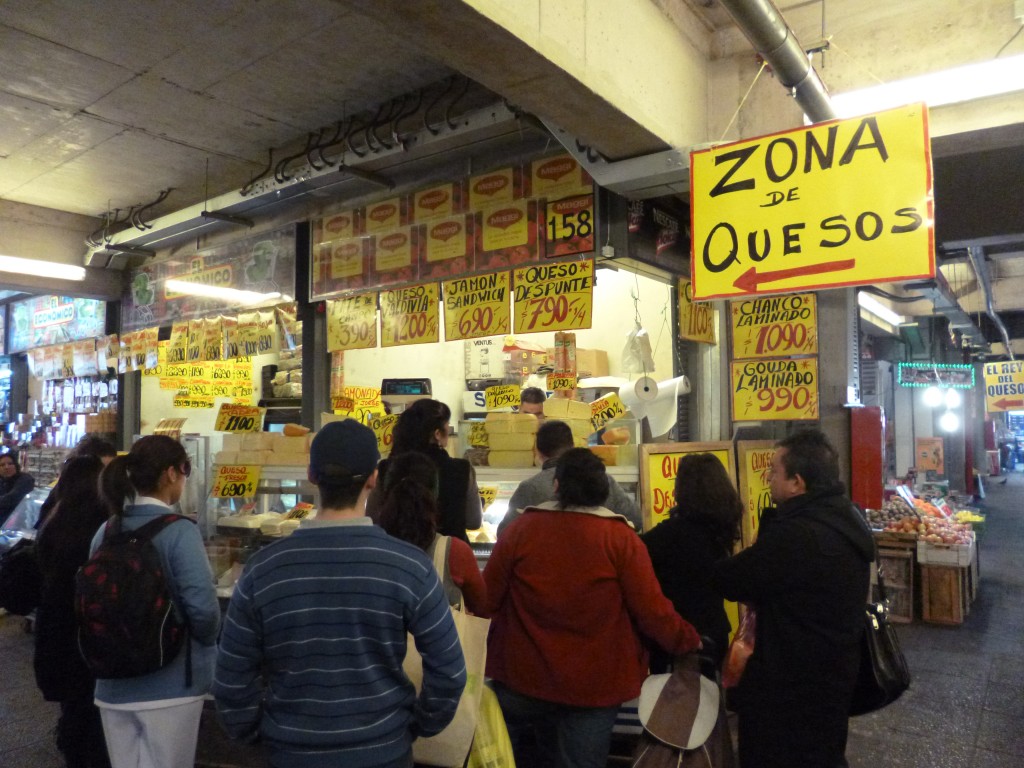 A cheese stand at the Mercado Vega, near the Mercado Central.
Also, a word about street dogs: They exist here big-time. The good news is that they're well taken care of (i.e., fed and sometimes even clothed) and are very unlikely to bother you. The worst thing they're likely to do is break your heart with either their cuteness or derelict condition.
Things To Do
In addition to simply walking around the neighborhoods above, check out the following:
1. Cerro Santa Lucia
(Best accessed via Merced and Santa Lucia, Barrio Lastarria)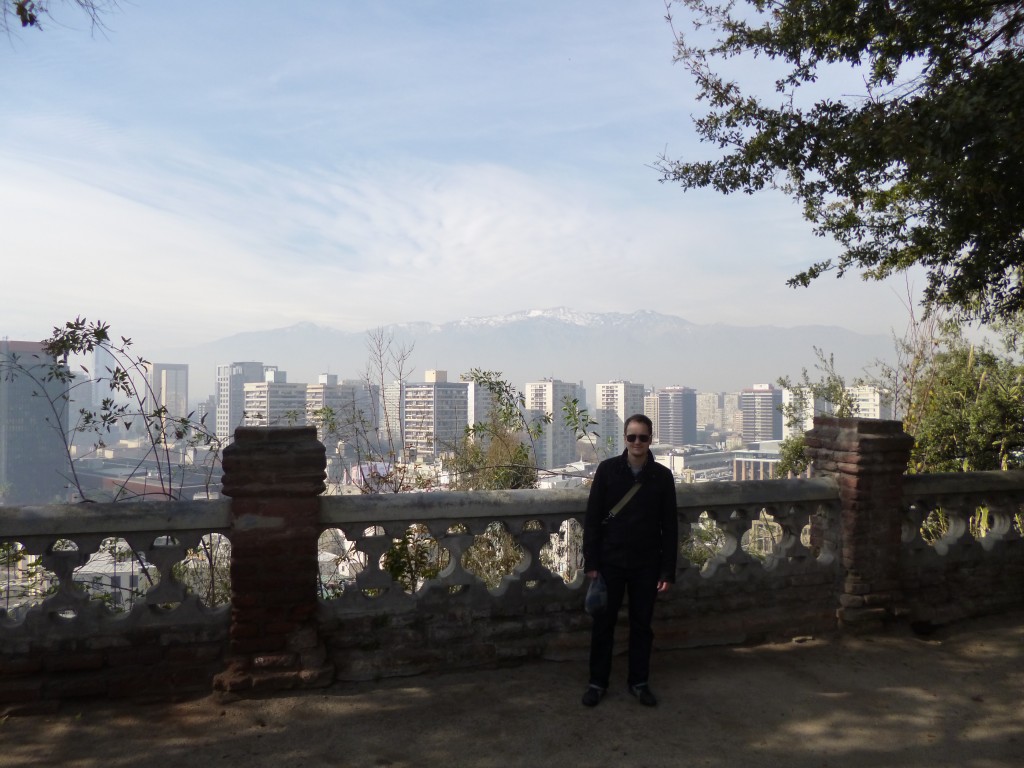 A crazy wedding cake of a park, with beautiful plantings and steep stairs leading to a lookout from which you can see the Andes in all their splendor — if it's a clear day.
2. Cerro San Cristobal
(Accessed via Pio Nono and Constitucion, Barrio Bellavista)
A much higher hill, and an official spur of the spectacular Andes. You can take an ascensor, or funicular, to the top, or drink some espresso and hike either the paved road the whole way up (one hour each way) or a steeper dirt trail called Zorro Vidal (see photo below — less time but more exertion). If you take the road, you'll pass countless bicyclists whizzing past you downhill.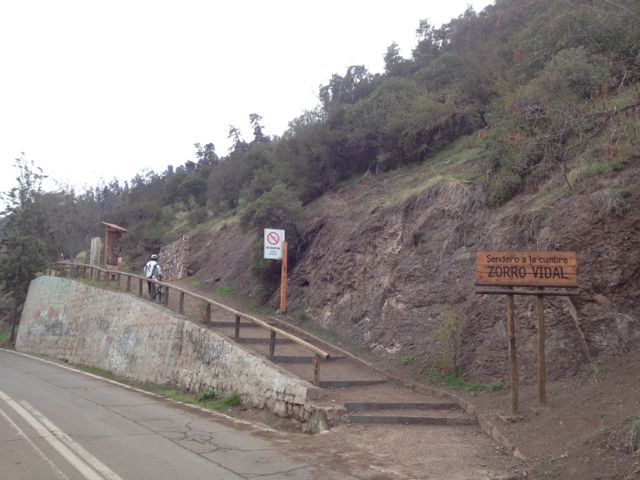 3. Quinta Normal
(Matucana and Compania streets, Quinta Normal metro stop)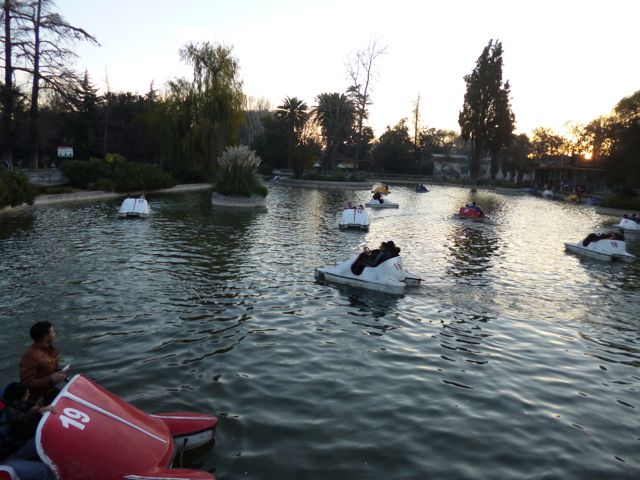 This is one of Santiago's cleanest and best-designed parks, full of families and trees and flanked on at least three sides by top-notch museums.
4. Barrio Brasil
(Avenida Ricardo Cumming and Huerfanos)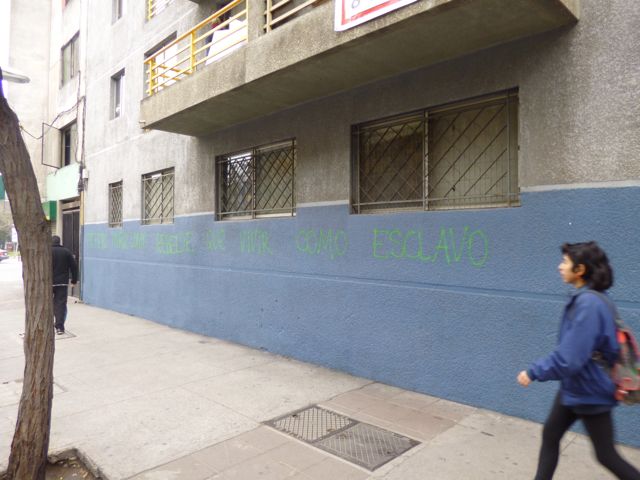 Home to a number of universities, this neighborhood is the seat of Santiago's student counterculture. When I was there, many college buildings had been barricaded and tagged en toma — occupied. These protestors mean business. But there are also a lot of restaurants and cafes, and a pleasant central plaza.
5. Barrio Concha y Toro
(Avenida Ricardo Cumming, just north of the Alameda AKA Libertad Bernardo O'Higgins)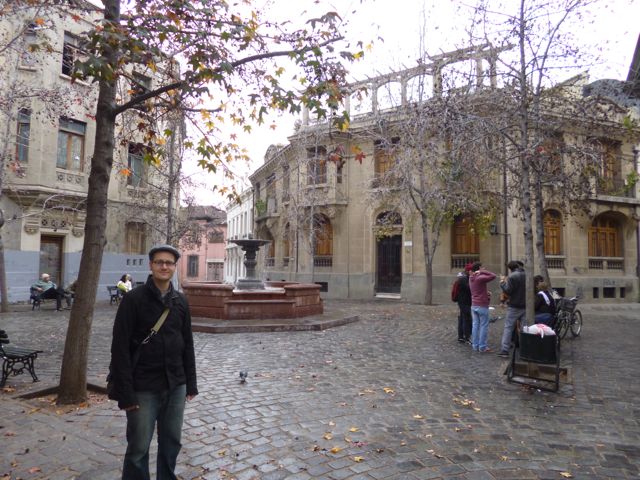 A postage stamp of a neighborhood, but jammed full of gorgeous Colonial buildings. Apparently the aristocracy moved out when the Alameda (a quasi-highway) was built nearby, bringing with it noise and riff-raff. There's not much to do per se, but the architecture and urban form are worth savoring.
6. Museums
The city has a few good museums, the best known of which are the Museo de la Memoria y los Derechos Humanos (Museum of Memory and Human Rights), which chronicles Chile's years as a dictatorship; the Museo Chileno de Arte Precolombino (Chilean Museum of Precolumbian Art), which as of July 2013 was closed for renovation but scheduled to reopen by December 2013); and the Museo Nacional de Historia Natural, containing some original rongorongo tablets from Easter Island.
I also visited the Museo Historico Nacional, which is worth 45 minutes or so if you're near the Plaza de Armas and have some time to kill. The Museo Bellas Artes is better known for its beautifully fussy building than its collection.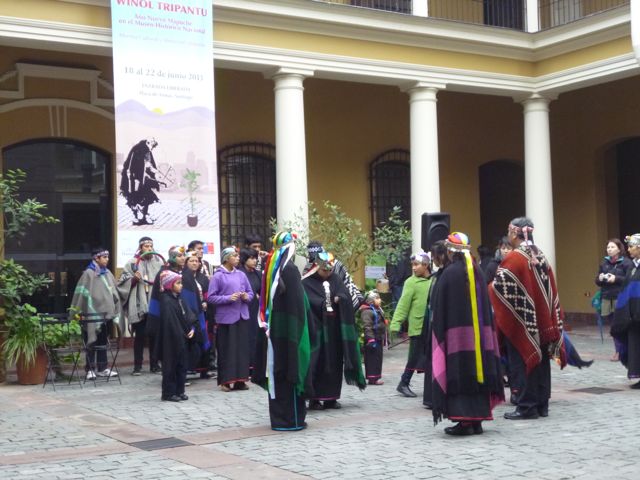 A performance at the Museo Historico Nacional, Santiago, on the Plaza de Armas.
7. Parque Forestal
(Best accessed via Merced and Purisima, near the Museo Bellas Artes)
I came to adore this linear park that runs along the edge of the channelized-to-death Mapocho River through the center city. It's nothing out-of-the-ordinary, and by all normal accounts it probably shouldn't work, wedged as it is between two busy six-lane roads. But somehow it manages to be intimate and leafy and is an ideal place to people-watch — especially if you get some ice cream first from Emporio La Rosa (see below, "Eating").
8. Artisan Market
(Pinono and Santa Maria, across from the University of Chile Law School)
Not much out of the ordinary here — it's mostly inexpensive trinkets, T-shirts and souvenirs made by local artisans. But you can buy some nicely carved figurines made from the region's trademark blue stone, lapis lazuli, and the atmosphere is pleasingly bohemian.
9. Mercados Vega and Central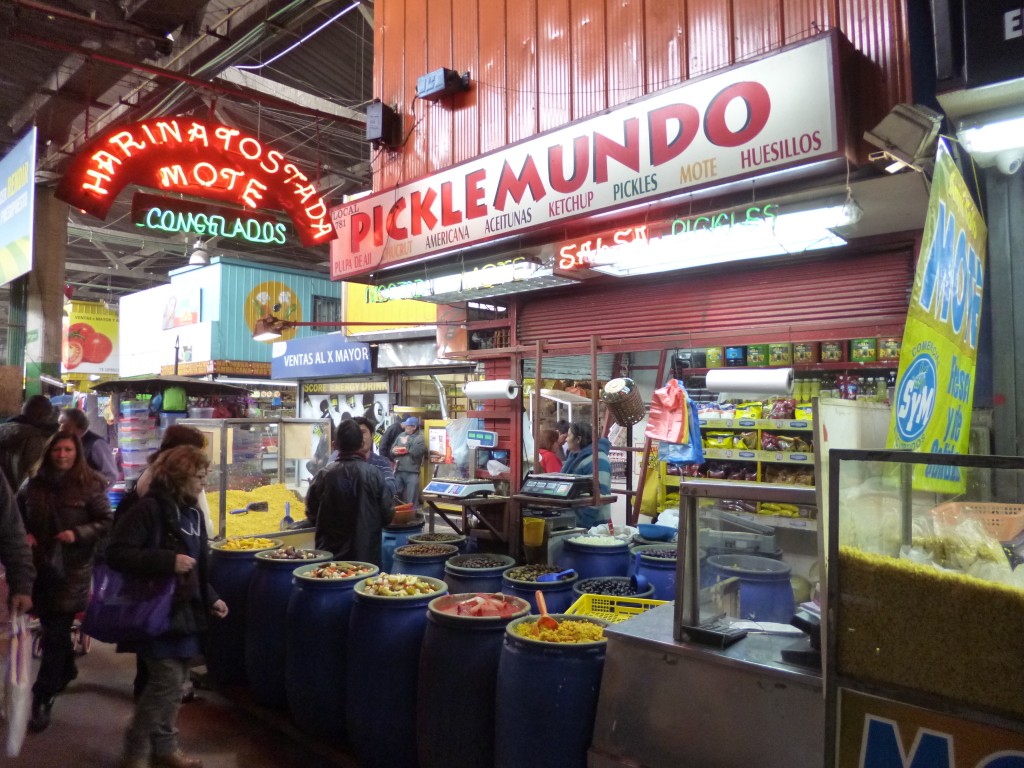 Mercado Central is the city's main fish market, and has gained a reputation for being both touristy and strewn with pickpockets (probably no coincidence). The Mercado Vega, just north of the river from the Mercado Central, has retained more of a local flavor, and you can also buy fresh fruits, vegetables and cheeses here. Best of all, the Vega contains a million cheap lunch stands where you can sit and enjoy a meal of reineta (my favorite Chilean fish — mild and flaky), fries, salad and wine for well under $10. Oh yeah — and Picklemundo (see above)! Unmissable.
10. Cementerio General 
(Avenida Recoleta and Arz Valdivieso, north of the Mercado Vega, Cementerios station on the yellow subway line)
You'll be well off the tourist path here, but Santiago's main cemetery is one of its most fascinating and memorable sites — an enormous, walled city of the dead. It's divided in two: The southern half contains tombs of the wealthy, aboveground and intricately crafted of stone, while the northern half is more open and houses the final resting places of the middle and lower classes. Victor Jar, the revered Chilean protest singer, is buried in this section. From the northern section, too, you can get stunning views of the Andes and of Gran Torre, the city's mega-skyscraper. Ask the guard at the gate for a map, and allow at least an hour or two.
A study in contrasts: The wealthy southern section of Cementerio General, and the working-class northern section, with Gran Torre and the Andes in the background.
Eating and Drinking
I only have a few recommendations here, as I self-catered much of the time I was in the city. As mentioned, you should eat at least one late lunch (2 or 3 p.m.) in one of the million stands at the Mercado Vega (see above, "Things to Do").
Cafe Mosqueto – Cozy, cozy cafe, perfect for a light dinner (sandwiches, soups and salads) or coffee. Affably hip local crowd.
New Horizon Cafe, Merced 565, Lastarria – If you start to miss Indian food, check out this popular and quick place in Lastarria.
Opera Catedral – Just-fancy-enough bar near the Museo Bellas Artes, serving delicious Chilean wines and pisco sours. Very friendly staff and local crowd.
Emporio La Rosa – Fantastic homemade ice cream, best enjoyed in adjacent Parque Forestal! Try the lücuma flavor (a type of sweet squash) in particular.
Day Trips
Ideas for day trips from Santiago:
1. Valparaiso – this once-glorious port city fell into picturesque decay after the opening of the Panama Canal, and wandering its twisty, narrow, near-vertical streets — and riding its terrifyingly rickety ascensores — is an experience not to be missed. You could easily spend several days here. Buses from Terminal Alameda (1 hour 45 minutes).
2. Los Andes – charming small mountain city, where you can hike up the Cerro de la Virgen for gorgeous views of the Andes, or visit the shrine of Santa Teresa, the city's teenage saint. Go to Terminal Los Heroes in Santiago to catch one of the frequent buses (1 hour 20 minutes).
3.  Isla Negra – home to poet Pablo Neruda's favorite house, and the one most overstuffed with curiosities he collected from around the world. Buses from Terminal Alameda (2 hours).
You can also go on several day hikes into the Andes from Santiago, though I didn't get to any of these.
Stuff to add or correct? Email me or leave a comment!