High temperature: 63, cloudy; low: 34.
Valparaiso is an automaton of a city, made up of clanking old ascensors (funiculars) and ancient ships and spindly Victorian houses. As if it could wind itself up and walk away at any moment. I liked Santiago fine, but this place has about 1oo times more character in one city block than the capital did in total.
We arrived around 12:30, taking a late-morning bus (1 hour 45 minutes, about $9 per person one way) from Santiago after checking out of our apartment. The ride takes you over the foggy mountain range that separates Santiago from the ocean. Immediately, we knew we were somewhere different. Somewhere stranger, and rougher, and also more beautiful. The moment you pull into the city from the highway, you're in a forest of narrow houses, most of them in some form of decay. You step off the bus and the hustling begins: Someone wants to give you a cab ride. Someone else wants to sell you bread, or lunch. Someone wants… well, who knows, because you've stopped listening to what they want and are just trying to walk. It's the kind of city I think Patricia Highsmith would have written about had she ever been here. A city where beautiful and dangerous things could happen.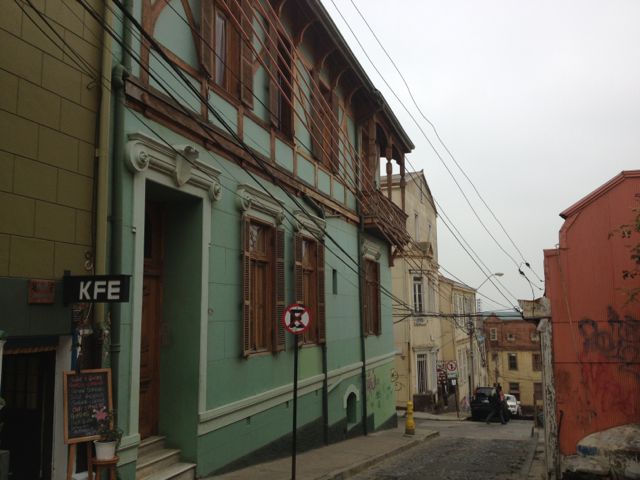 We took a taxi to our hostel, Ottavia Hostelling, in the Cerro Alegre district. Valparaiso (Valpo for short) is built on a series of hills that rise directly from the port, and each hill seems to have its own character and neighborhood identity. Ours and the one next to us, Cerro Concepcion, seem to cater to tourists, hippies and artisans, and they're the only ones we've managed to explore so far in any depth.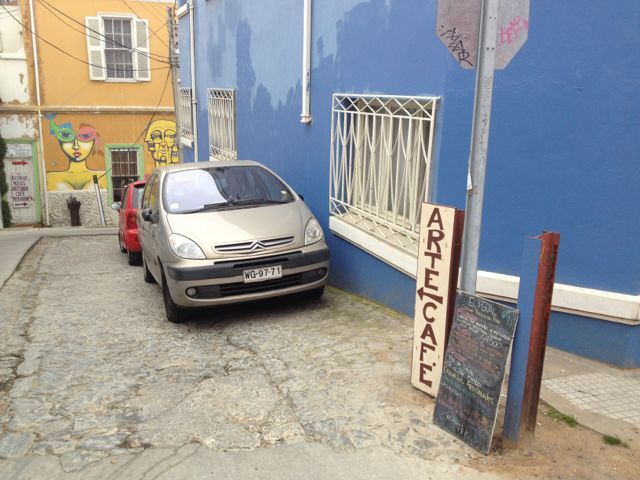 Walking around this place is like navigating a bowl of spaghetti. Sorry for all the metaphors, but Valparaiso demands them. It's a crazy tangle. Twisted streets lined with brightly colored, garishly-graffitied houses. Narrow "paseos" that are really just steep stairways that smell like mold and rain. At least a dozen ascensores, one per hill, rattling up tracks that look as if they haven't been thought of since they were built 100 years ago. (We've ridden one so far — the passage was smooth and felt utterly safe.) Mouth-watering seafood restaurants that you can just tell are amazing because they are plain and an old man outside is carving up a tuna as big as a seal.
That's really all we did today: Walk around. We had to wait a bit for our hostel owner to arrive, and during that time the shopkeeper next door, an artist named Pau, invited us into her store for conversation. Pau had long black hair and talked about how the city is dirty (it is) but she loves it (I can see why). She pulled up chairs for us to sit in. After we did check into the Ottavia, where our room has a balcony with breathtaking, 360-degree views over the city and the sea, we went to a little bakery up the street, Panaderia Dimpo, and ate (yes) empanadas and cookies. And then we walked and walked, from Cerro Alegre to Cerro Concepcion and back.
We took one of the ascensors down to the port, and this felt like entering another world. Gone were the hippie artists and bakeries, replaced by belching steamships and a few battleships (there's a big military training ground here). Plaza Sotomayor, just a block or two up from the water, was like walking through a minefield of people trying to sell us lunch or a tour or just asking for money. We pulled out our tourist map at one point and it was like an invitation.
Here's Dan on the ascensor! (He said it was like being on a roller coaster — except roller coasters feel safe.)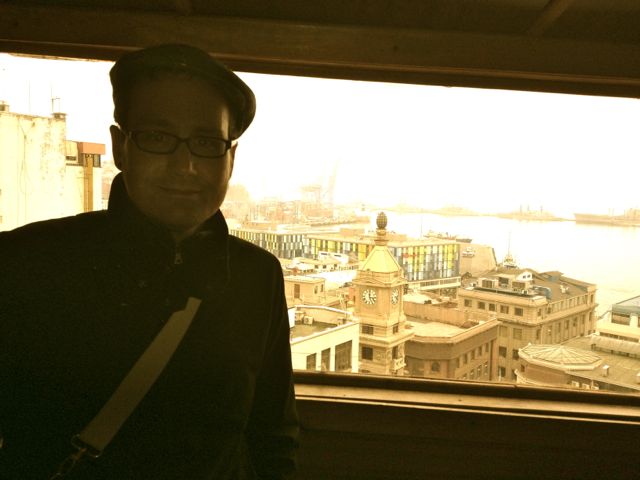 Ascensor action shot!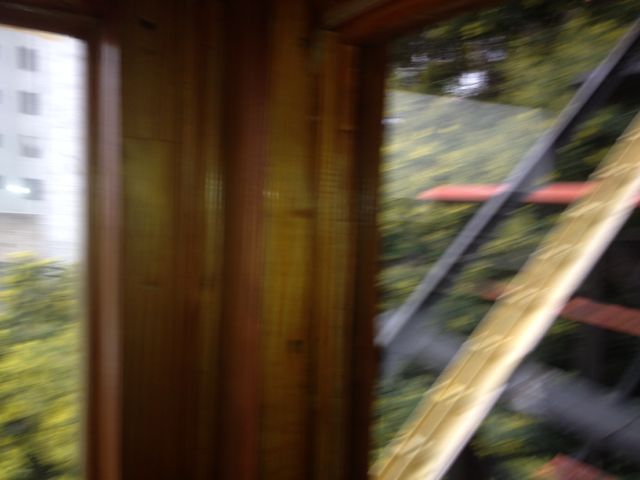 We climbed the stairs back up to the relative serenity of Cerro Alegre, and ate a nice dinner at La Bruschetta, an Italian place a few blocks down hill (steeply) from where we're staying. My calves and hamstrings are already on fire. Can they handle…. ANOTHER FOUR DAYS IN VALPO??? We shall see…